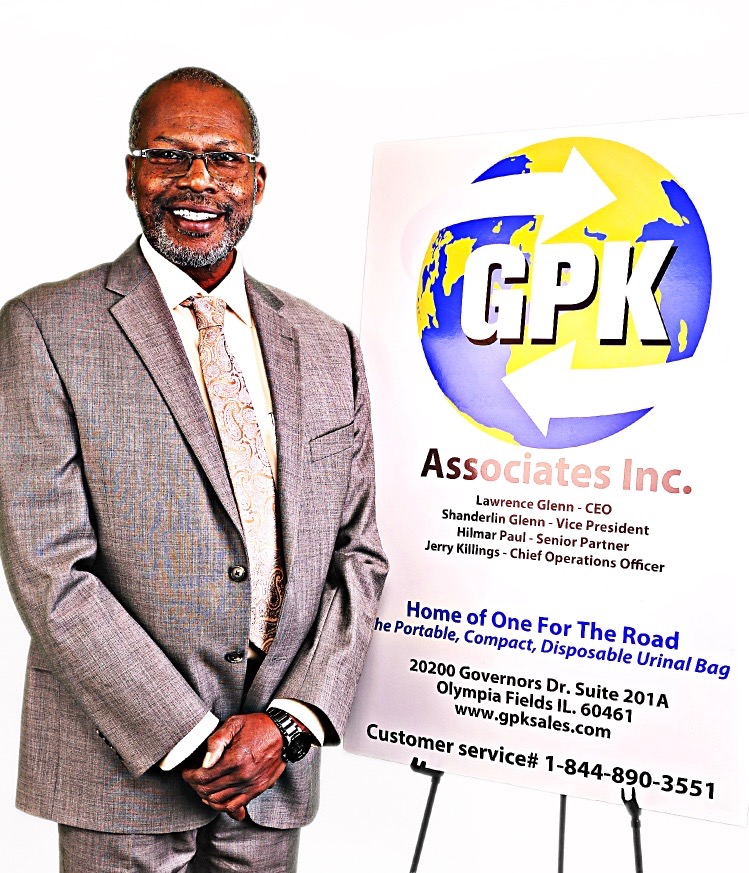 Black history is something that we tend to speak about as if all the accomplishments have been achieved. In truth, Black history is being made every day. As Black people continue to crush barriers and stereotypes every day, rolling out's mission is to chronicle the stories of those who empower themselves and in turn empower others. We are honored to feature Black businesses and business owners as they represent the engine to our freedom.
Today, we feature Lawrence Glenn of G.P.K. Associates Inc. His story of turning necessity into a business venture is inspiring. 
Favorite quote from an African American: 
"We all have dreams. In order to make dreams come into reality, it takes an awful lot of determination, dedication, self-discipline and effort." —Jesse Owens
Talk about what inspired you to go into business.
There were three things that inspired me to go into business. My first introduction to entrepreneurship was presented to me at a very young age by my uncle Lionel Glenn. In 1964, he owned a small storefront on Chicago's South Side. My first cousin Michael Davis also inspired me. He maintained a business that manufactured and sold chicken and seafood breading under the logo Tasty Delight. My wife, my children and the acknowledgment of the higher power was the ultimate inspiration for me. I was blessed with the opportunity to work two full time jobs. I worked 16 hours everyday for a period of 10 years. It was time consuming. I spent more time at work than I did at home.
As the days turned to years I found myself consuming more and more black coffee, usually within an hour before my 16 hour day would end. I did this out of fear of falling asleep behind the wheel on my journey home. It was my journey to entrepreneurship.
I worked about 23 miles away from my home and I always took proper steps so that wouldn't have to stop for a bathroom break. But, no matter what I did, I always found myself having to stop at the nearest gas station. Most times the restrooms were occupied or out of order.
I would complain to my wife about this and she said I should do something about it. That prompted me to create One For The Road Disposable Urine Bags.
I created this for people to use in their cars during emergencies similar to mine. I manifested my idea into a reality.
What does it mean to you to run your own business?
To me, it means accomplishment, pride, fulfillment, accompanied with anxiety.
Talk about some of the challenges you have encountered and how you were able to overcome them?
One challenge that I experienced was finding a manufacturer that could build or create my product within the guidelines and specifics as directed without costing me an arm and a leg. This process was not only time consuming it was almost detrimental. Networking was the key to overcome this particular predicament for me.
What does it mean to provide great customer service?
Providing great customer service means to me repeat customers, satisfied clients, referrals, brand recognition and sales growth.
What value does your business provide to the community?
The value my business provides for the community is attributed to patronage of other businesses for services rendered such as tooling needed to propel my company forward.
What book have you read that assisted you in your path?
Awareness by author Anthony De Mello. Indian Jesuit Priest.
What historic African American figure has inspired you the most and why?
The African American figure who has inspired me the most is undoubtedly Mr. Barack Obama, our 44th POTUS. For reasons obvious to the most casual observer: being the first Black president of the United States, for serving two terms with dignity and honor, and for surviving all the turmoil and obstacles that were thrust upon him at home and abroad.
When you are hiring employees, what do you look for?
When we hire employees, we will be looking for people with sales experience, integrity, enthusiasm, and most certainly ambition.
What do you want the legacy of your business to be?
I want the legacy of my business to be in the form of inheritance.
Business website: gpksales.com