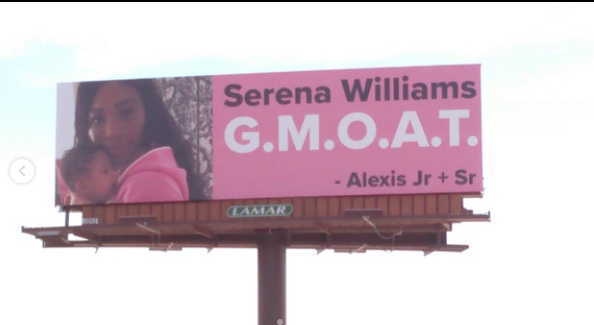 Serena Williams' husband Alexis Ohanian has marked her return to tennis by having billboards with their 5-month-old daughter's face put up in Palm Springs, California.
The 36-year-old professional player was hailed the "Greatest Momma Of All Time" by her spouse Alexis Ohanian, who had the words spelled out on each poster in Palm Springs, California, where Serena will compete at the BNP Paribas Tournament next week.
Her spouse captioned the photo of the billboards on Instagram and Twitter: "These just went up on alongside I-10 into Palm Springs. @olympiaohanian & I wanted to welcome her back to tennis. Designed them myself, with some help from Jr. #GMOAT."
The gesture made Williams burst into tears of joy.
Commenting on the photos on Instagram, she wrote back: "Literally am crying … This is so sweet. I love you."
It will be the tennis ace's first game since she "almost died" giving birth to the couple's daughter, Olympia, after she suffered small blood clots in her lungs on Sept. 1, when her C-section wound opened after intense coughing spells.
Williams was due to return to the tennis court at the Australian Open — which she won last year — last month but withdrew from the tournament 12 days beforehand after playing in an exhibition match.