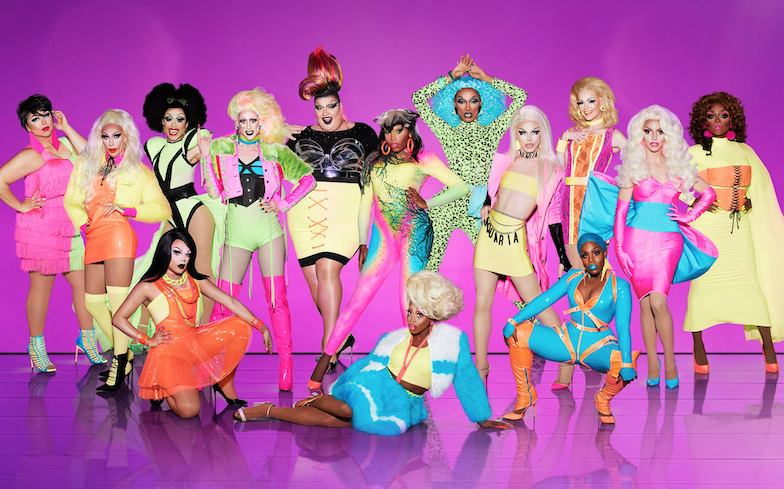 In a world full of nines, it's only right to be a ten. The queen of all drag, RuPaul, is back with her Emmy Award-winning "RuPaul's Drag Race," and the new contestants are fierce and ready to snatch the crown. Marking ten seasons of over-the-top fashion and performances, "RuPaul's Drag Race" is gearing up to deliver a season unlike any other.
As we await the premiere and prepare our edges, we broke down our ten most anticipated elements of the show. Check them out:
We can think of no better way to start the season. Often imitated for her strong vocals and vivacious makeup, hair, and wardrobe, drags queens are very familiar with the style of Ms. Aguilera. During the first guest judging, the queens will slay for their lives to try to empress Aguilera. Will they meet her standards? We can't wait to find out who will deliver a fantastic performance, and who must sadly, sashay away.
Episodes will be 90 minutes
Yes, you read correctly. VH1 has blessed viewers with an extra 30 minutes to bask in drag glory. Each week's episode will be packed with cutthroat challenges and vibrant performances.
Season 10 means a decade of drag fabulousness
Can you believe it's been ten years? "While preparing for Season 10, I realized that one of our contestants was 11 years old when we first launched Drag Race," said RuPaul in a statement. "The fact that we're still here and still going strong is because of our talented queens. They are the heart and soul of the series. And as they continue to evolve and push the boundaries of drag, so does Drag Race. " Here's to ten more years.
Eureka O'Hara is back for more
After having to leave the show last season due to a knee injury, Eureka O'Hara is back to claim her crown that was tragically yanked from her grasp. O'Hara was a tough competitor, so we're excited to see her come even harder.
One of the cast members broke parole just to film
The show hasn't even premiered, and the castmates are already breaking major rules. Back in 2017, Blair St. Clair was leaked to the press as a season 10 cast member after TMZ revealed her DUI from earlier in the year. Consequently, St. Clair violated her parole filming "Ru Paul's Drag Race," as she was supposed to remain in Indiana during her parole term. Fearless of breaking the rules to pursue her dreams, Ms. St. Clair is a contestant to keep your eyes on.
There are tons of Drag protegees on this season
Many of this season's contestants are star children to several Ru Paul Drag Race royalty. With connections from Sharon Needle to Bob the Drag Queen, we're anxious to see if these new kiddies can really work what their drag-momma gave them.
The "Wicked- Stepsister of the Kardashian family" makes her TV debut
Who knew a Kardashian would ever compete in a drag race? The self-claimed Kardashian stepsister, Kalorie Karbdashian-Williams, is not here to play. Citing the Kardashians as everything she aspires to be, it's expected that this diva delivers the glamour and quality the Kardashians are known for.
Many of the contestants are broadway trained
If you thought wigs and appearance would win a title this season, think again. Several of the contestants are ready to blow with their theatre trained vocals and performance. Give us Baraba Streisand-fierce or go home!
"Untucked" is back
The" Ru Paul's Drag Race" behind the scene show is back and ready to spill the tea. "Untucked" is set to follow each season 10 episode to point out all the shady details and commentary you may have missed in the preceding episode.
The show premieres March 22, one week after "All-Stars."
Only a week following the season finale of "RuPaul Drag Race All-Stars," we get to watch a batch of new contestants vying for the title of America's Next Drag Superstar. Thank you, Fairy Drag Mother RuPaul. We honestly don't think we could've made it a month without witnessing some form of drag queen greatness.
"RuPaul's Drag Race: Season X" Premieres March 22 on VH1.