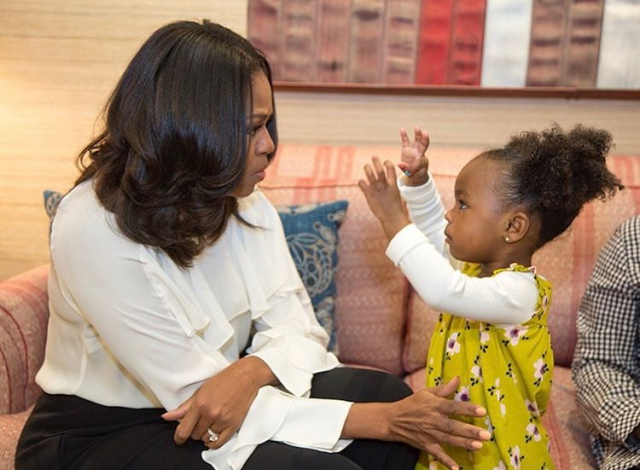 The National Portrait painting of Michelle Obama debuted in February. The former first lady of the United States of America discussed during her speech just how inspiring the art is to girls of color nationwide.
"I'm also thinking about all of the young people, particularly girls and girls of color, who, in years ahead, will come to this place and they will look up and they will see an image of someone who looks like them hanging on the wall of this great American institution," she said.
Amy Sherald is the portraitist responsible for the magnificent portrait of the Chicago native.
Obama was right about the impact of the painting on Black girls. Two-year-old Parker Curry's photo was taken by museum visitor Ben Hines, who saw the little girl in awe while looking at Obama's portrait.
See her gaze 😍. . . @MichelleObama❣#RepresentationMatters#ExcellenceMatters

📸 by Ben Hines, posted March 1, 2018 on @facebook: "Donna Hines & I made a pilgrimage today, and we were delighted to wait in line behind this fellow art lover & hopeful patriot." @smithsonian pic.twitter.com/Zqmf4QLBgk

— Dionne Cowan, EdD (@DionneCspeaks) March 3, 2018
In an interview with Buzzfeed, Hines spoke about capturing the photo of Curry.
"It was so touching and uplifting for me to see this beautiful child looking at a beautiful portrait of a powerful woman," Hines said.
"I was so delighted to have been in the right place at the right time," he added.
Obama got word of the photo and decided to meet the precious two-year-old. The two can be seen in a video posted to Obama's Twitter page. They're dancing and having a great time.
Parker, I'm so glad I had the chance to meet you today (and for the dance party)! Keep on dreaming big for yourself…and maybe one day I'll proudly look up at a portrait of you! pic.twitter.com/faUVTsYWun

— Michelle Obama (@MichelleObama) March 6, 2018
Curry's mother, Jessica Curry, said that her daughter was "just so fixated on the portrait and wouldn't turn away from it" in a statement to The Washington Post.
The two-year-old is sure to hold this memory close for years to come.