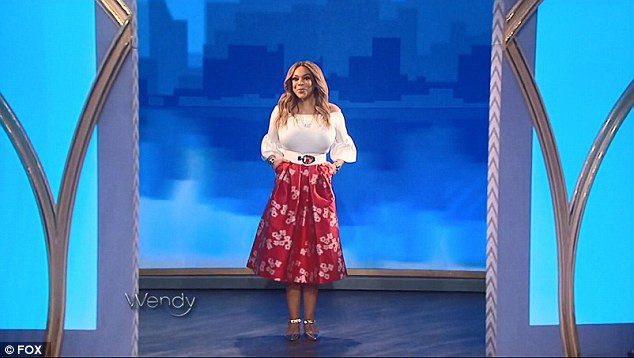 Nearly a month ago Wendy Williams made a huge announcement. On Wednesday, Feb. 21, 2018, the talk show host announced her doctor prescribed that she take a three-week medical leave for hyperthyroidism and Graves' disease.
Today, Williams, 53, returned to work. During an interview with "Good Morning America," she declared she is putting herself first.
When she returned to the set of her syndicated show which airs on FOX, Williams told her live studio audience, "It's really good to be back. Nice to be missed. Thank you so much for waiting. Thank you so much. I know society is so fickle these days. You love something one day and you forget about it the next and you replace it with something else. So thank you for not replacing us.
"Thank you for being here today. Thank you. And Jerry O'Connell, you are a one of a kind fool. I love your tomfoolery. I'll tell you and I've said this before, he needs his own show. Like he needs to be doing something, either with the kids like one of those funniest home videos shows or next to Kelly on the Kelly show. Just saying."
Williams admits she's been resting and shared some insight on her journey to better health, saying that the Graves' disease combined with the thyroid disease resulted in her having to take a battery of tests. "I am optimum right now," she reassures.
She broke down in tears and thanked her staff and her family:
"And I have to really credit my family, you know, my son Kevin and also my husband Kevin, the love of my life. I could not have done this without you … Kevin, thank you for calling Dr. Oz and thank you so much for ushering me through wellness. Kevin, thank you so much. And also, thank you to the boy as well. He was a good one as well," added Williams.