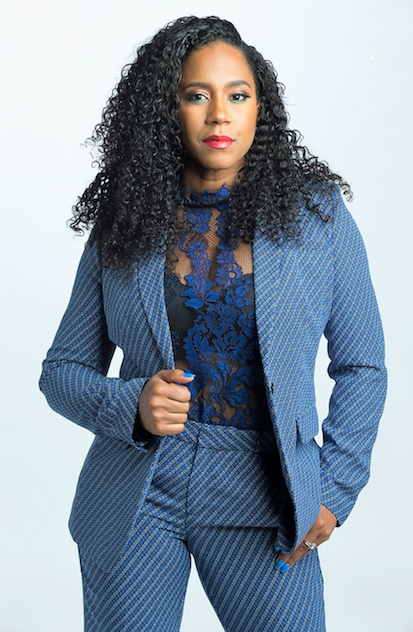 Mahisha Dellinger is a Black woman who escaped a turbulent upbringing to become the CEO of popular natural hair care line CURLS. From the trials of corporate America to becoming her own boss, Dellinger has learned many lessons along the way. She is working through her nonprofit and other organizations to aid young women who are growing up in similar circumstances as she did. Dellinger spoke with rolling out about her rise to success and giving back to her community.
How did you become a beauty entrepreneur?
I didn't originally seek out entrepreneurship or being a beauty brand owner. I was in corporate America, as a proud Intel Corporation employee and had planned on retiring there. I was really happy to be there. I was working my butt off. I met and had the most horrific experience with a manager that left me shook. This manager was hell-bent on getting rid of me for no reason besides the color of my skin. I was very stressed. I knew I had no recourse at that time, he put me on a corrective action plan to get rid of me in six months. During that six months, I had to figure out what else I was going to do. I tried to get out of the company, but every time someone would call for a job reference he would bash my name. I remember praying "God you have to move him because he is blocking me from leaving." He left and went to another department, and I was able to leave and get a job in another department as well. After that, I realized I never wanted to someone have my financial destiny in the palm of their hand. I began to look for other things that I could that would allow me to be the boss of my destiny. The hair care industry stuck with me because I was a newly natural mom. My husband said, "Mahisha why don't you do something around hair care?" I started doing my research and saw that there was a need and that was back in 2001. I was relaxed going natural and the products were very limited at the time.
How did you come up with the name CURLS?
Well, it was all things curls, everyone with texture and it is all about embracing natural textures. The first thing I was thinking was curly hair solutions, everything for curly hair, but that was already out there. There were some other names, CURLS was like everything we have for you simple and to the point. I wanted people to know off the shelf that it's for textured hair and not be ambiguous with that.
Have you formed any brand partnerships?
Toyota is in partnership with my nonprofit, which helps disenfranchised young Black girls, like myself, who came from the wrong side of the railroad tracks and need assistance. We want to break the chains in our community. We connect those young girls in different cities to mentors in the industries they want to be in. This mentorship is not for the day, but to and through success. Toyota and I have been back and forth with meetings and the head of supplier diversity is a Black woman and she's very connected. They are in the process of building a facility here in Dallas that will be done by the end of the summer. We will run continual yearlong programs for these girls.
When you say you come from the wrong side of the railroad tracks, tell us about your upbringing?
I was born and raised in Sacramento, California, in a neighborhood called Meadowview. This area was also known as Danger Island, because it was gang infested, drugs, crime, everything you could imagine. There weren't a lot of men, so single-parent homes. Many didn't finish high school, much less college. It was a real distraught place to be. I am the only one that finished high school and went to college and broke the cycle of poverty. Seeing where I came from, I know to whom much is given much is required. I know it's a lot more to do than to change the legacy and destiny of my children.
Tell us about the Caviar and Cashmere Collection in the Dominican Republic.
The first week of June, we are taking 25 influencers with us to the Dominican Republic and we are going to party with a purpose. We are going to celebrate the launch of this line with influencers like Amara La Negra and celebrities in beauty that will help us push the collection with a lot of amazing content. While we are there, we are also going out into the community to help these little Brown girls. We're going to go in and talk about self-love and really bring that seed of optimism to the girls.
You have a new endeavor called Vitapop. Please share the details. 
Vitapop Popcorn is a new endeavor. I acquired 50 percent of the business that makes popcorn infused with vitamins. This popcorn has over 15 essential vitamins, 10 grams of protein and is non-GMO. It has great flavor where you can't taste the vitamins and is great for picky eaters like my children. It's great for people who want nutritious snacks.
You have a lot of irons in the fire. What are some other projects you are working on?
Black female-based businesses are on the rise 300 percent and that is amazing growth. Only, four percent, however, make it to the million-dollar mark. I am working on a show and the title that is soon to be released, but it is about me as an expert going in for one week to help businesses get to the next level. The show is a mixture of "Shark Tank," "The Prophet" and a little bit of Iyanla in there. All of these are phenomenal businesses that just need a leg up and that's what we are here to do.