Chrissy Teigen and John Legend threw a "Sesame Street" themed birthday bash for their daughter Luna.
The Sports Illustrated model and the 'All Of Me' hitmaker marked their daughter's second birthday on Saturday, April 14, 2018, with a party based on the popular children television show.
Alongside a video of the cake, which was adorned with yellow feathers like the character Big Bird, Chrissy shared: "Happy birthday, loons!!! Mommy and daddy are killing the cake game."
The cake also had red and blue colouring for the characters Elmo and the Cookie Monster respectively.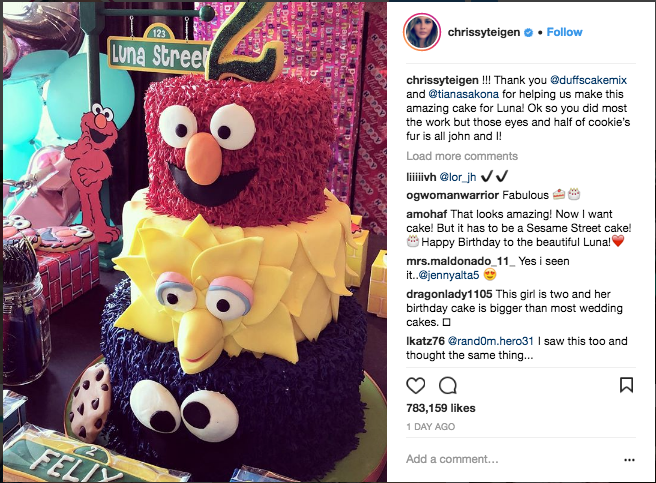 Meanwhile, Chrissy – who is expecting her second child – recently admitted she is already thinking about having a third child and she is keen to conceive again quite quickly after their son is born – and then she'll focus on getting "hot".
She said, "I think I do want to have another baby after this and then get hot. I just want to go babies, back to back to back, but then I think maybe I want to have my 30s, really live in my 30s and not just be pregnant throughout them.
"I have a husband who truly loves the whole experience. He holds my belly at night, sings to it, wants to be there for me. I'm really lucky because some men start to look at you like a tool, I've heard, so I've been scared and don't let that happen to me! But it hasn't and it's really good."
Though Chrissy and John know they're expecting a boy, they are really struggling to choose a name for their son."
She admitted, "We are doing horribly. We didn't even pick out Luna's name until three days in the hospital when they told me I'd have to go down to the courthouse and I didn't want to go down there after I had just given birth. But it's tough for boy names. It's harder. I have an arsenal of girl names, but between John and I, we feel that we know somebody with every name that we try and pick out."