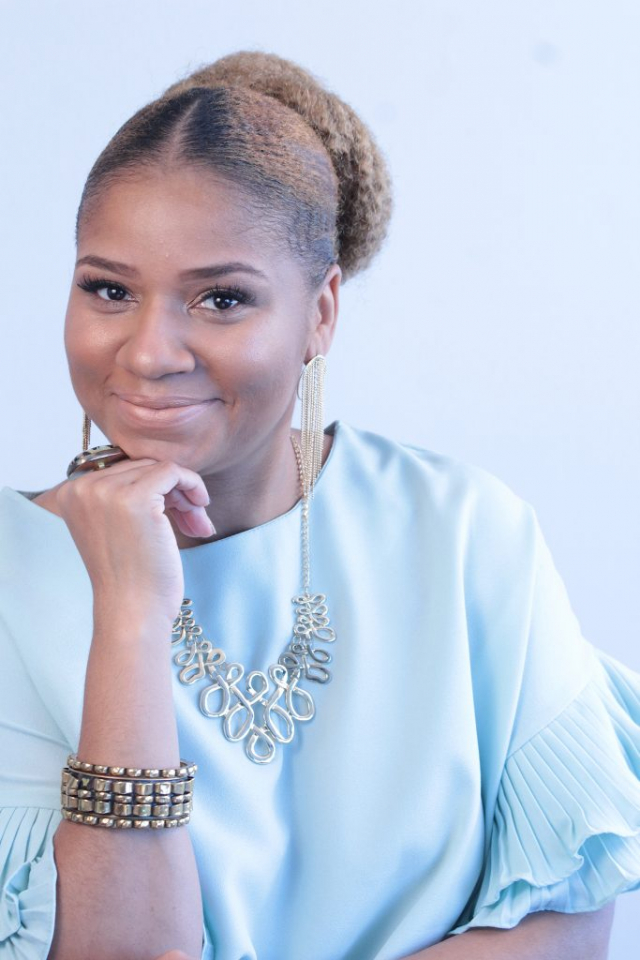 Cheresa "Reese" LaFrances Purnell is a leadership strategist, idea curator, supermom to a beautiful teen daughter, and spiritual activator, with 15 years of mentoring, facilitating, and training experience in the nonprofit sector. She creates platforms that support the spiritual, personal and professional development of women leaders and girls of color. Those platforms include being the associate executive director of Demoiselle 2 Femme, NFP and the founder and president of the 40 Under 40 Young Women Professionals League. In both leadership positions, Purnell is responsible for fundraising, program development and delivery, budget and team management, public speaking, and relationship management.
"I am definitely passionate about empowering millennials to not only connect to what they sell but more importantly to how they serve. As a leadership strategist, I train good leaders how to become great leaders and great leaders to become excellent leaders." Says Reese.
Rolling out caught up with this amazing woman to talk business.
How did you first get involved with your business? 
Actually, I was born into the social services, nonprofit sector. My mom supervised group homes for girls and was a case manager for 35 years before she retired. At the age of 14, my mentor started what was then a girls ministry at our local church in the Englewood neighborhood of Chicago. After matriculating through the program and completing it, I was hired at 21 to work as an outreach specialist for the program. Now 17 years later, I am the associate executive director and excited about the opportunity to grow the organization into its next phase of being a national and global thought leader.
Tell us about a time when things didn't go the way you wanted — like a promotion you wanted and didn't get, or a project that didn't turn out how you had hoped?
Last year I wanted to launch a national conference and do a three-city tour. I thought it was a great idea to bring more visibility to the League. We'd only been established for two years but I felt pressure to do more. Social media can make us feel that way sometimes. … After the first city, I realized that I didn't have the right people at the table and ended up canceling the other two cities. It was a very humbling experience and taught me a lot. One of the most important lessons was don't let the pressure to perform trump the purpose and the planning.
What is your greatest achievement? 
Founding the 40 Under 40 Young Women Professionals League I would say is my greatest achievement thus far. The League is pivotal because not only is it an honor to be awarded but it is also a call-to-action. YWPL members work to build the capacity of young women ages 18-24 currently seeking workforce development training or pursuing post-secondary degrees who are often first-generation college students. We assist with providing scholarships, care packages, training, and other resources to support the educational and economic equity of the next generation of young women leaders. In three years, we've inducted and galvanized 120 rising millennial women leaders whose sole purpose is to impact others through leadership development, service, philanthropy and sisterhood.
There's also the whole work-life balance. How do you do it all?
I don't. I prioritize and manage all the moving pieces as best I can. But let's be honest, some days it's just impossible to get it all done. And on those days, I try to see what's working or not working. Is there something I can do better or different to maximize my time and get it all done? Sometimes the answer is yes; however, when the answer is no, I've learned to breathe, let it go, and try again tomorrow. I learned to live by the quote, "We can do anything but we can't do everything." So I allow myself to have days where my "anything" is a day at the spa, or a yoga class, or nothing at all. I also pray, meditate, write affirmations and recite mantras. Oh, and I have a great team. That is how I balance it all.
What was the last thing you googled? 
The last thing I googled was tips on getting more organized. There is a Scripture that says, "To whom much is given, much is required." So as more is required and entrusted to me, I've been researching systems that I can implement to help me better streamline and organize my day.
Who has influenced your decision to pursue your career?
The founder and CEO of Demoiselle 2 Femme, NFP, Sherida V. Morrison, has greatly influenced my decision to pursue my career. She has been mentoring me since I was 14 years old. For almost 25 years now, I've watched her diligently work to spiritually disciple, humbly sacrifice, and faithfully lead hundreds of girls who she refers to as her D2F daughters. Since being founded in 1994, under her leadership D2F has provided prevention and education programs to more than 5K girls ages 13-19 in the Chicagoland community, given away over $52K in scholarships, and assisted over 600 girls to become first-generation college graduates. She has definitely laid the foundation for a great legacy and she isn't done yet. Her newest project is founding the Hope Network of Schools and launching the Katherine G. Johnson S.T.E.A.M. School for Girls, which will be the first of its kind in Illinois. So yeah, I always say I have some pretty big shoes to fill while also charting my own legacy.
What's next in your business? 
We're planning to plant national chapters to highlight other rising young women leaders in other cities across the country while expanding our mission to serve and [for the] development [of] girls and young women ages 18-24 to become the next generation of future trailblazers. I want women all across the globe celebrating sisterhood and service. … My vision is that Demoiselle 2 Femme, NFP, and the Young Women Professionals League will be the catalyst to bring solidarity, support, and a voice to girls and women leaders around the world.
Twitter: @ReeseLaFrances, @Demoiselle2Femm, @40Under40YWPL