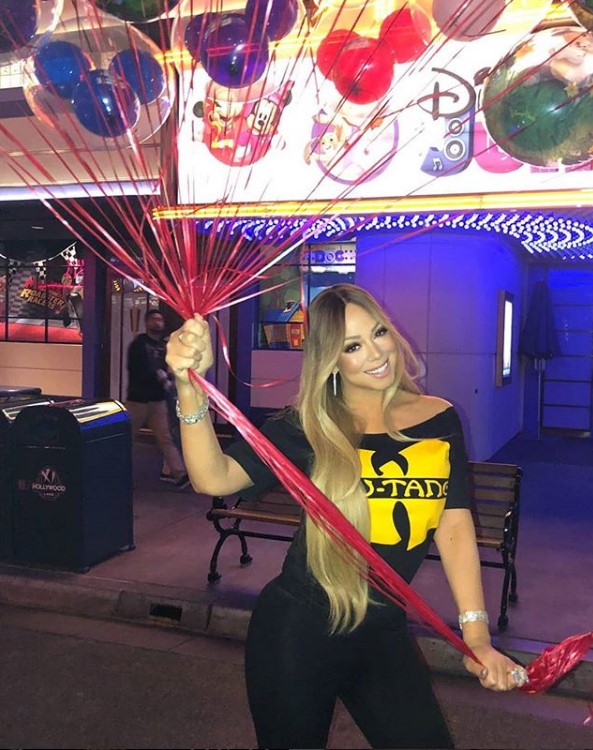 Mariah Carey's battle with bipolar disorder reached a climax a few years ago when she reportedly was hospitalized after thinking the greatest singing legends of the modern era were coming to her house for dinner — despite the fact that they were all already dead.
According to The Blast, this episode popped off in 2016 when Carey believed that iconic performers Michael Jackson, Whitney Houston and Prince were scheduled to arrive at her house for an exclusive dinner party.
The circumstances were just a part of Carey's legal battle with her former manager Stella Stolper (aka Stella Bulochnikov).
Carey's turbulent breakup with fiancé James Packer put the record-breaking, five-octave singer in a "terrible manic state" after a summer of heavy partying with her current boyfriend, Bryan Tanaka.
Moreover, one night in 2016 Nick Cannon called Bulochnikov in a panic after he was called by the star's nanny, who found Mariah "wearing a ball gown and a tiara" and sporting a Ring-Pop she claimed was given to her "from the royal family," the entertainment publication reports.
Carey was allegedly asking the nanny to get her young children ready for a dinner gala with Michael Jackson, Whitney Houston and Prince. At this time, all three iconic performers had already died prematurely and tragically.
The Blast also stated the nanny panicked and alerted Carey's inner circle because she feared the "Always Be My Baby" singer was now a danger to herself. She and Cannon believed that Carey could very well be the fourth legend to die from mental issues and a prescription pill addiction.
The Blast reports how Carey nearly did just that as she tried to "jump out of a moving vehicle" after Carey's camp and a psychiatrist were summoned to her house and transported her to the hospital. 
After arriving at the hospital at the University of California-Los Angeles in Beverly Hills, the doctors recommended that Carey be placed in a special unit for care. Meanwhile, some of Carey's closest Hollywood friends worked frantically to prevent the situation from leaking out to the public.
So concerned was Carey's inner circle with her deteriorating mental state at the time that, as The Blast writes, she was placed in a nearby hotel. All sharp objects were removed from her room and she was administered intravenous meds and fluids to try to get her head right.
Carey was kept under wraps for several weeks at the hotel, hidden from the media and paparazzi, where she was allowed to walk the grounds under strict supervision and received continuous treatment. She nearly fell off the wagon upon being discharged and returning home because she wasn't keeping up with her daily regimen of medicine, the publication writes, but eventually, Carey pulled through.
Meanwhile, Bulochnikov is going to file a lawsuit against Carey for sexual harassment, breach of contract, saying Carey ran afoul of the U.S. Civil Rights Act and the Fair Employment and Housing Act. Bulochnikov's lawyers claim Carey is a certifiable "train wreck" who cannot resist alcohol and prescription pills.
Someone from Carey's camp eventually contacted The Blast after its report to inform them that "If this frivolous and baseless claim is filed, we will defend against it vigorously and successfully."