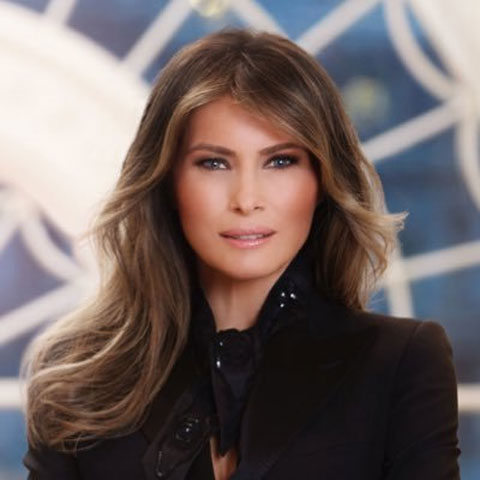 Many people looked askance at Donald Trump's dubious decision to skip the funeral of former first lady Barbara Bush on Saturday, opting instead to play on the plush greenery at one of his golf resorts in Florida.
Trump dispatched his wife, Melania, as an emissary to attend on his behalf as the other former presidents and their wives — including Bill and Hillary Clinton and Barack and Michelle Obama — paid proper homage to Barbara Bush, making Trump's absence all the more conspicuous and awkward.
As fate would have it, Melania Trump was photographed and seated next to the Obamas during the photo opp and the service. At one point, former President Obama shared a warm exchange with Melania Trump that got plenty of reaction on social media.
As the organ hummed softly in the background, Obama turned and said something to the current first lady. Both smiled briefly. And that moment has Twitter in a tizzy and went viral worldwide, with many mocking the fact that Melania Trump rarely smiles in the presence of No. 45 but gave Obama a genuine smile during the most somber of times, the funeral of a former dignitary.
Check out the responses below.
Sad it took attending a funeral without her husband to see what Melania's natural smile looks like. pic.twitter.com/fAsTkcMFKp

— JackWBower (@Trumpet1984) April 23, 2018
Hey @POTUS –

How's golf? pic.twitter.com/fah0ik6cK0

— andy lassner (@andylassner) April 21, 2018
add "make Melania smile" to the long list of things Obama can do that Trump can't

— Jeff Tiedrich (@jefftiedrich) April 21, 2018
Do NOT tweet this photo to @realDonaldTrump. He'll hate knowing that the first time Melania cracked a smile in years was during a quiet chat with Obama. pic.twitter.com/4JwBHGUcP5

— Bob Cesca (@bobcesca_go) April 21, 2018
This photo from Barbara Bush's funeral speaks volumes. After everything Trump has done to Obama, Obama still treats Melania with kindness and respect. What a diplomat and gentleman. That's a real President. No way Trump would be half this warm to Michelle. pic.twitter.com/7BSqplbdhT

— Adam Best (@adamcbest) April 21, 2018
Find someone who smiles at you the way Melania Trump smiles at Barack Obama pic.twitter.com/uHS8MvsMXA

— Grace🇪🇺🇬🇧 (@Commonsenseb0t) April 22, 2018
Pop Quiz: Of these two photos of Melania Trump, which one was taken at a funeral?
🤔 pic.twitter.com/hZSU6jAi2w

— ⚠Kimexander Hamilton (@YippeeKimYay) April 21, 2018
Nothing said class like Obama making Melania smile and feel welcome…knowing she supported her husband's birther movement and asked on national television to see Obama's birth certificate. pic.twitter.com/fPbgLr4Mpy

— Tony Posnanski (@tonyposnanski) April 21, 2018
"WHO KNEW MELANIA COULD SMILE?!" pic.twitter.com/SS8VNhWFRL

— Kristen Marie (@Ink_Vixen82) April 22, 2018
Melania: you're one of the five people I follow on twitter

Obama: you know that upsets him

Melania: LOL yeah pic.twitter.com/I1VclKJESs

— laney (@misslaneym) April 21, 2018
I'm living for this Obama and Smiling Melania #meme
It really is the only time we've seen her happy. pic.twitter.com/1ANjQFNK4Y

— Turi ✍🏽 (@Turi_TX) April 22, 2018
Haven't seen Melania smile this much in years. She's happier with the Obamas at a funeral than she is with her husband in the White House 😂 pic.twitter.com/pz4WauDxjq

— #5 Junie Bey Jones 🐝BΔK SP18 (@BienSur_JeTaime) April 22, 2018
Y'all. Melania is actually happier with Obama at a funeral than she is with Trump at his inauguration dinner!#barbarabushfuneral pic.twitter.com/mDhGqWJjid

— ⚠Kimexander Hamilton (@YippeeKimYay) April 21, 2018
This is Melania and Obama sitting together today at former First Lady Barbara Bush's funeral. Have you ever, ever, EVER seen Melania smile like this, and look this relaxed, beside her own husband? Ever? pic.twitter.com/9qYLT2glIH

— Steve Silberman (@stevesilberman) April 21, 2018
Poor Melania. You never see her smile. Oh no, hold on… pic.twitter.com/x5oO3RymhU

— David Schneider (@davidschneider) April 21, 2018
Only time I've seen Melania Trump smile in the last year was yesterday… while sitting next to President Obama

— Hilary (@HilareeBanks) April 22, 2018
Finally Melania has something to smile about. She's sitting next to Barack at Barbara Bush's funeral. pic.twitter.com/O4zAr2uQwH

— Elayne (laynie) (@LaynieR) April 21, 2018
WHY DOESN'T MELANIA SMILE AT ME WHEN I MAKE A JOKE BUT SHE THINKS OBAMA IS HILARIOUS? pic.twitter.com/VdX80eB04p

— Tennessee Jed (@Tennessee_Jed7) April 21, 2018