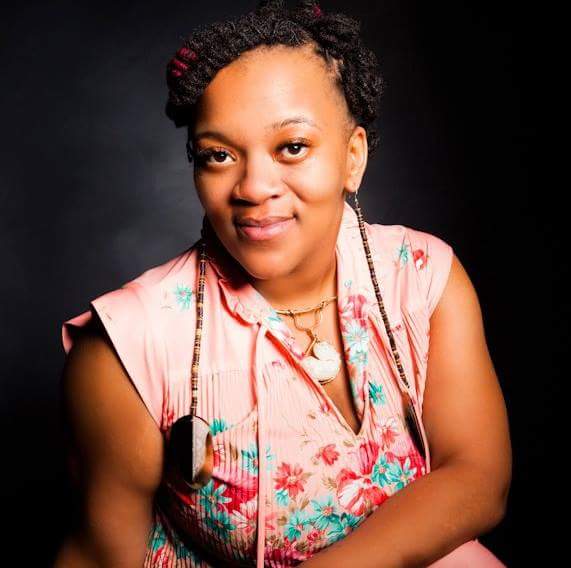 National Poetry Month is in full swing and wordsmiths from around the country are celebrating. Chicago represents a hub of poetry where some of the most eloquent and prolific poets are born. We spoke with one of those amazing poets. M'Reld Green has traveled the world with her words. We were able to catch up with her recently and get her perspective as to where the art of poetry is going.
Tell us how you got started doing spoken word. 
From the time I learned how to read and write I have been a writer. I always wrote stories, was a reporter for my high school newspaper, performed original poems for the church, etc. I went to Chicago State they had an open mic I shared, but it was awful. The first time I really saw spoken word performed it was at an open mic at this place called Giovanni's in Dolton. I went one time from there I was hooked. It was on Tuesdays, and I used to wait for Tuesdays it was my therapy session.
You've been on the poetry scene for a while in Chicago and travel to perform around the U.S. and internationally, how do you think Chicago influences the art of spoken word around the world?
Chicago has this unique level of realness and transparency when it comes to poetry. Chicago poets perform with this all-of-their-heart kind of vibe. Being that Chicago is a Black metropolis, it's a great influence on the spoken word art scene; we are spoiled here. There are so many dope poets here still pushing the envelope and moving the genre forward, some of the standouts to me are Harold Green, Frank Mitchell, and Yahdna the beast destroyer, to name a few.
How would you describe your style of spoken word?
It's a mashup of testimony, narration, and comedic timing. My style is authentic. It's the kind of poetry that makes you want to clap and leave the snaps at home. The type of poetry that surprises the people who think they won't be thoroughly entertained and are surprised when they are genuinely moved.
What do you see for the future of spoken word? Who are some of the new poets you think will lead the next generation of poetry?
That's tough. I desire to be like the great Maya Angelou and continue sharing and reading my work until my life's end. I continue to push for spoken word poetry to be recognized, push for the respect to continue to grow for the genre. I've been blessed to perform on several poetry shows with a national and international audience —Def Poetry, Verses & Flow, and Lyric Cafe. It's time for a poet to get a new show to build the bridge from the old generation to the new generation of poets. It would be great to show how well rounded these spoken words artists are captivating audiences with their words and performance.
I'm rooting for the entire culture as a whole. Veterans and newbies. There's still work to do subjects to explore. The more, the merrier there's room for more voices.  
You were featured on an episode of "Noisey" TV docuseries on the Viceland Network opening the show with a powerful poem about Chicago and discussing the issue with the community. Why is it important to you to speak out about on the violence and how does art help create change?
When it comes to the violence in Chicago, unfortunately, some may turn a blind eye, I pick up my pen. I'm a reporter, a griot, a storyteller. I use my gift to paint pictures people sometimes like to ignore. As a writer, you have to document the truth as a poet you have to deliver it. Finding a happy medium between the two is what makes for great spoken word. I use my platform to make people aware. You need awareness if you desire to see change. There are people still in the dark of what's happening in other communities. Poetry is a way to enlighten them. The violence in Chicago is always in the headlines, let's highlight the change. Highlight those who are living righteousness and helping make it a better Chicago. The beautiful city we all know it can be, we all must do something to do our part.  
You hosted the She's Powerful Shero Benefit Concert on April 15 in Chicago. What does it mean to you to be a powerful woman?  
In the wave of the #metoo movement, it's time for healing and time for the greatness in women to be recognized. We can use a more survivor vibe than victim vibe, uplift one another in the name of sisterhood. I'm very thankful for all of the women who stand up for other women, those who rally for everyone's success. She's Powerful Shero Benefit Concert is an all-star gathering of women coming together to celebrate each other and give back to those in need. I remain thankful to God that my art allows me to work with so many influential women [who] continue to open doors for me. The diva myth is not true, sisters look out for me, and I look out for my sisters! If it weren't for Tony Award-winning Georgia Me, R&B legend Angie Stone and countless other sisters in the industry, I would not be where I'm today. They believed in me and poetry.
What other projects do you have on the on the horizon you can share with our readers?
I'm currently working on my first book. It's poetry including short stories. Look for it this year, late summer. I'm also working on a children's book about being comfortable in all shades of Black. And, I have been extremely focused on launching a podcast in 2018.
What advice would you give to someone who wants to become a spoken word artist?
Be yourself and never ever anyone else. Tell your story. Find your voice, and most of all have no fear.
Check out some of M'Reld Green's poetry below.