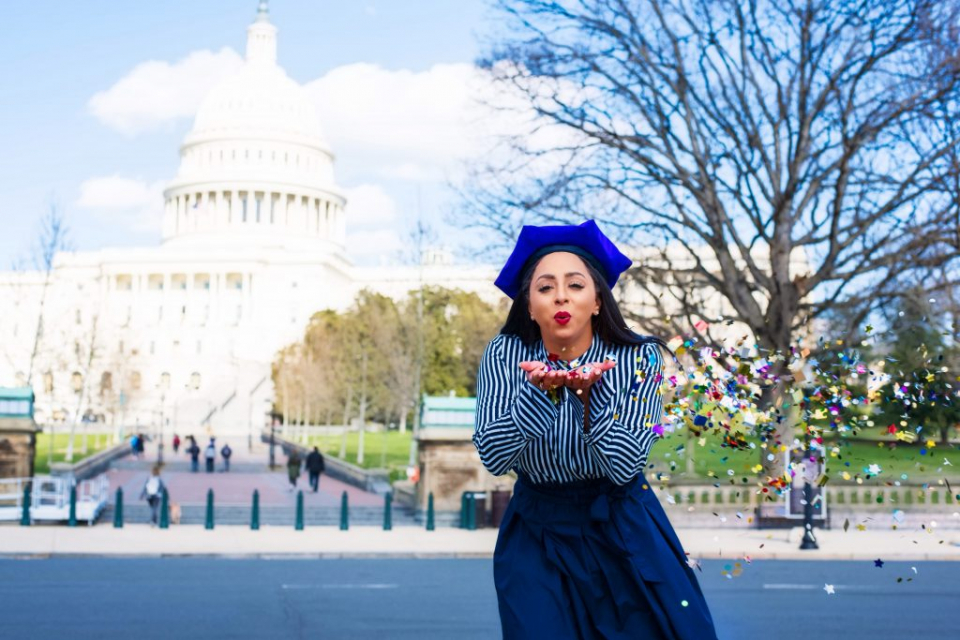 Victoria Starks exemplifies Black excellence. Now at the pinnacle of her education, she obtained her law degree after finishing her high school career with a GED. As she moves on to her next chapter in her life, rolling out got a chance to speak with Starks about her journey to becoming a lawyer.
You recently graduated from law school. what law school did you attend and what made you want to become a lawyer?
Yes! Graduation is set for May 12, 2018. I'll graduate with both my JD and MBA with an emphasis on finance. I currently attend Howard University for both programs. What made me want to become a lawyer? Well unlike many of my classmates, the law was not something I always wanted to pursue. I actually did not want to go to law school at all! My mom kind of forced the idea into my head and I decided to just go for it. I'm happy to say I've really enjoyed the decision and what has come of it.
You didn't finish high school but you did get your GED — was there a reason you went a different route?
So there was definitely a reason but not one that was planned or well thought out. When I was 14 I went to an all-girls boardings school in western Massachusetts. Honestly, I probably wasn't the best teen. I had issues with authority and lived by a "you-can't-tell-me-nothing" type of mindset. Long story short, I just did not mesh with the administration at the school and year after year there were issues. My junior year I kind of hit a wall and was not thinking about my future and started making bad decisions. I felt like the school and the administration [weren't] supportive [of] who I was as a person (and looking back it probably is best that they weren't) but at the time it was just not a healthy environment for me so I left. In April 2009, I dropped out and went back home to Jersey. … I was told it was too late in the semester for me to enter school and so I ended up homeschooling to finish my junior year. I decided that summer I didn't want to go back to high school at all and got my GED that summer. In August 2009, I started my first semester at Rockland Community College.
How as the transition from major university to an HBCU and how have you been adjusting to Washington, D.C.? 
After I graduated from SUNY Rockland, I transferred to The University of Notre Dame and spent three years there — two years to finish my bachelor's and one year working for the University. Notre Dame was an amazing experience but I was ready for something new. Because of my nontraditional education path, I really did not know much about Howard or HBCUs generally. When I applied, all I thought about was what I wanted in a law school and at the time it was simple and objective: strong job placement, strong alumni network, and somewhere in or around a major city on the East Coast. The transition itself wasn't particularly difficult but I think it came at the best time it could. I really couldn't think of a better place I could be in light of all the police shootings and brutality taking place and especially during this current presidency. It is so empowering sitting around scholars and future lawyers, judges, and professionals [who] look like me and understand how I'm feeling.
Washington has been great! I was so glad to get out of the Midwest. Although I really enjoyed my time there, I was excited to explore D.C.
As a Black woman, how important is education nowadays whether higher education or self-education? 
Higher education is extremely important as a person of color, particularly as a woman of color. Anyway [that] you can expand your knowledge and what you can bring to the table — do it. Keep in mind your goals and plan strategically.
What advice would you give to women that are following their dreams but may have experienced a few obstacles? 
Obstacles are inevitable — it's a part of life. Don't beat yourself down for experiencing them because most of the time, a better you come from them.  The one thing I learned from dropping out of school and turning that whole situation around was, "you have to grow through what you go through." I try to keep that with me every time I face challenges. Look at obstacles as opportunities to grow and learn something new about yourself. Every challenge is an opportunity for you to step back, re-evaluate, and conquer.
What are your plans for the next 5 to 10 years? 
Well, I would like to work at my firm for a considerable amount of time — climb the ladder; make connections; develop my own clientele, and get the expertise. At some point, I do want to get more involved in real estate and investments.  I've already started learning and meeting industry moguls here in D.C. and I want to continue that while I'm in New York. I also would like to get involved in the community through organizing or serving on an advisory board for an organization that aims to improve underrepresented communities. Lastly, I have this weird passion for sustainable development and agriculture so I eventually want to figure out how to combine my legal expertise and anticipated real estate experience with that passion to do something for the community. I already have some things brewing in my head — check back with me in a few years and I'll update you on my progress.