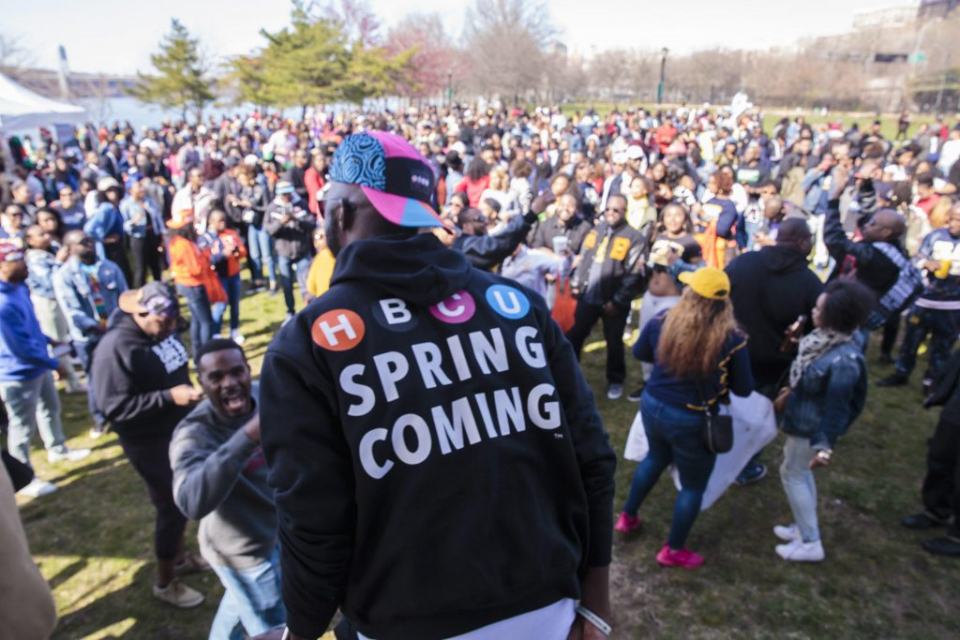 As most of us would agree, Beyoncé got us all in our feelings with her Coachella performances. For many of us whether we attended an HBCU or not we could relate on some level with the references to the bands, Greek life, homecoming or just hanging on the yard.
HBCU SpringComing extended those memories and compounded the "Beychella" excitement as the event returned to New York City, last weekend, kicking off the city's festival series for the fourth year in a row. Nearly 4,000 alumni, influencers and friends from many of the country's 101 Historically Black Colleges & Universities (HBCUs) enjoyed a full weekend of events that offered innovation, education, fitness, strategy and a social escape. The Grant Access, LLC and Listen TWO Me, LLC partnered with title sponsor, Cantu, to host this year's event. Partial proceeds from the weekend benefited the Puissance Scholarship — a scholarship created for students interested in attending an HBCU.
"Many of us who had the opportunity to attend a historically black college or university look back on our college days and are reminded of both the academic and life lessons we learned, the culture of service that was instilled upon us, the lifelong bonds that were formed and the great times we had," said George Twopointoh, co-founder of HBCU SpringComing and founder of Listen TWO Me. "HBCU SpringComing affords people the opportunity to relive those days while also creating a space for us to recognize, as we say in my fraternity, our achievements in every field of human endeavor, whether or not we are able to make it to our actual schools each year."
Twopointoh and CEO of The Grant Access, Lauren Grant, started HBCU SpringComing in 2015 in an effort to connect local HBCU grads whose life demands made it difficult to travel back to their alma maters in the fall. It was designed to create an experience that would resemble the feel of a college homecoming while benefiting the younger generation of students who aspired to attend an HBCU. The vision has now grown into an attraction that draws thousands from across the country.
This year's official lineup of events over the weekend included an Innovation Lab at Twitter, a Saturday morning fitness boot camp, the flagship "School Daze" tailgate, Sunday worship service and a host of parties.
This year the Innovation Lab received the most buzz. It was a fun and intensive rapid problem-solving lab based on design thinking. The challenge tackled this year was how to get 10,000 HBCU alumni into middle management roles in innovation by the year 2021.
"HBCUs have been under quite a bit of attack this past year, particularly given our political climate," Grant said. "But the beauty of HBCU SpringComing is that it reminds us of how our institutions, their students and alumni, have always risen above the challenges and adversity, come together and made a greater impact on and in the community. We see evidence of this every day in the contributions of HBCU graduates around the world, and we're committed to continuing to recognize, celebrate and support the legacy of our institutions through HBCU SpringComing."
In addition to Cantu, other national sponsors included Twitter, The Grio, Unilever, Don Julio, Tanqueray 10 and Kettle One.
Check out the gallery of photos below courtesy of Kolin Mendez photography. And if you missed the fun this year, mark your calendars for next year's five-year anniversary of HBCU SpringComing, April 19-21, 2019.