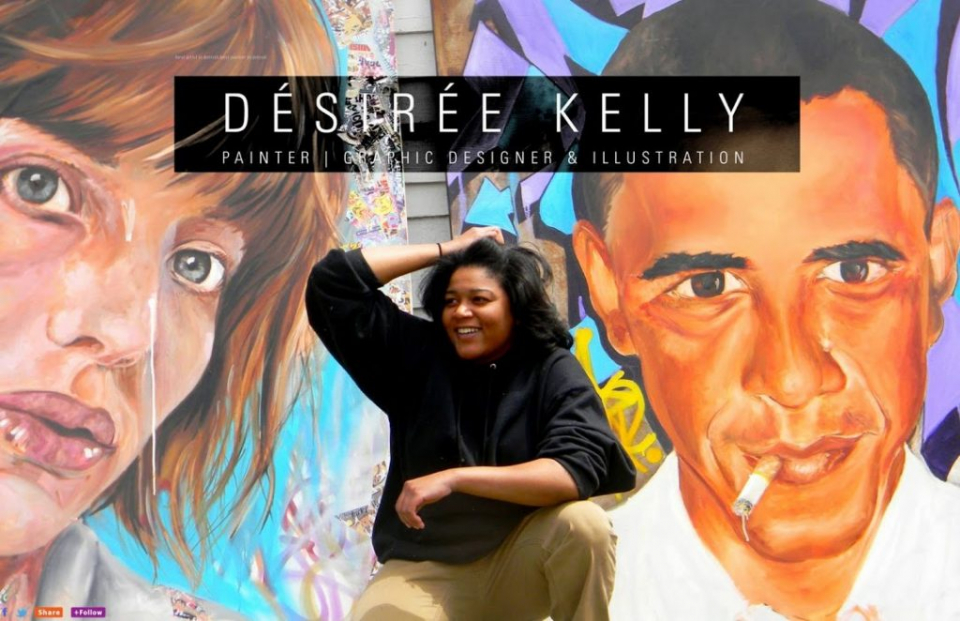 Desiree Kelly has many talents, from art director to muralist, graphic designer and portrait artist. She is presenting her first solo gallery exhibition, "Faces of Music," at AtomArt Gallery located in Ferndale, Michigan, on May 5, 2018, from 6 to 8 p.m.

In honor of Women's Health Month, she designed a three-dimensional outdoor mural for Beaumont Hospital to celebrate two dozen strong and diverse patients. Undoubtedly, Kelly has a prodigious stamp in the art world and continues to unleash her artistic talents while inspiring others in the process. She has been a professional artist for over 15 years and has curated a plethora of influential and powerful paintings and murals.
She continues to showcase her talents across the country by participating in various art shows and galleries such as Art Basel in Miami, Scarab Club, Ann Arbor Art Center, and Crooked Tree & Contemporary Art Institute of Detroit. Her mural work has been commissioned by talk show host Ellen Degeneres and major companies such as Converse. Naturally artistic and also highly educated, Kelly earned her B.F.A. degree from Wayne State University in graphic design, which serves to fortify her art skills.
Kelly spoke with rolling out about her first solo exhibition, her biggest art influencers and the intent behind her artwork. Check out her story below.

How did art become your passion? Tell us about your background.
I come from an artsy family. My grandmother drew; my mother drew; pretty much everyone had some capability of doing that. I picked that up from my family. I continued to become interested in all the performing arts as well as fine arts. I received a B.F.A. in graphic design at Wayne State University in Detroit. I am a self-taught painter. I used to paint just as a hobby. I started selling my work at local festivals and it generated a buzz about my work. I decided to quit the graphic design route and pursue painting full time. That's what I have been doing since 2014; I am a full-time painter. My medium is oil and spray paint on canvas. Portraits are a special piece and that's what I generally paint. I am a shy person and I chose to express [myself] visually. That's what I think makes my art interesting: I can tell stories visually and capture the personality rather than the portrait itself. I use my knowledge in graphic design to utilize the background as well as the foreground. I use a lot of collage and typography to tell stories throughout the whole piece.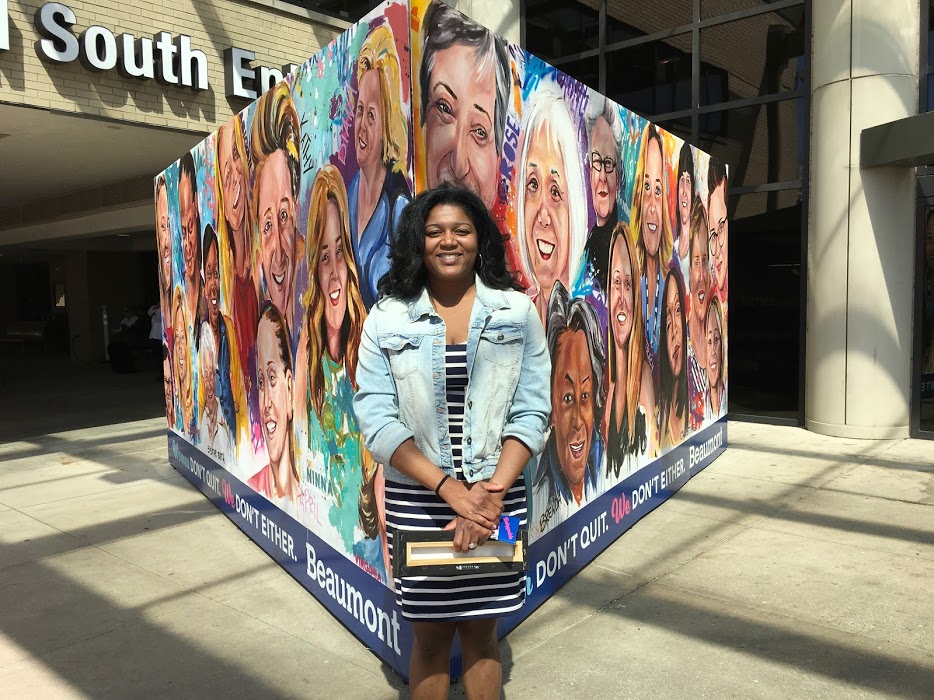 What do your murals and paintings aim to say?
I want to summarize the person, whoever I paint. There are a lot of different mediums I add to the portraits, like I may add collage, paper or cement. My intent is to change the traditional style of painting. Portrait painting goes back to the Italian Renaissance and I want to [add] that to modern day [while] adding that pop of color, edgy youthfulness, so I can captivate an audience, from a child to a senior. That's my goal as a painter, to make everyone appreciate art.
Tell us about the "Faces of Music" exhibition.
I was approached by the director of AtomArt gallery last year about possibly doing a solo show. At the time, I wasn't thinking about doing a solo show at this state in my career. But, it ended up being appropriate because now it is the perfect time because my [career] has taken off. I thought about it for several months and then I naturally [chose] music [as a theme]. I am classically trained in violin and orchestra symphony and so, it was natural for me to choose music. My interests are in history, as well. I've been focusing on Detroit's musicians lately. Primarily in the space that I have in the mayor's office, which is an ongoing rotating exhibition. I focused on Detroit's Motown musicians like Aretha Franklin and Stevie Wonder. I thought, I don't want to paint the same people that everyone else in the world is painting, so why not focus on where I am from?
Who are your biggest influences, both artistically and in general?
Kehinde Wiley is my all-time inspiration as a Black artist and as a portrait painter. He moved from the Old Renaissance and that's what he inspires his portraits by. I think that's interesting how he kind of forced people to learn these stories that they didn't even realize they were looking at. In general, I am one of the few female artists that are doing this kind of art with this type of style. It's sort of like creating my own lane and using this as my voice.
You have some pretty dope artwork of former Presidents Barack Obama and Abraham Lincoln. How is your work influenced by current social and political issues?
[Politics] is such a heavy subject anyways and I feel like it's my opportunity to provide some sort of relief. Last year, I did a portrait of [Donald] Trump and it's hilarious. Everyone has their opinion about whatever president that I depict. I make it a comical thing [because] it's a topic that you can't avoid. I did a Hillary Clinton portrait the first time she ran for [president] and she's standing with boxing shorts and boxing gloves on and she has a tattoo that says, "Made in America." I have a [portrait] of Barack Obama sitting in a chair with a crown and boxing gloves and in the background it says, "Obama beat your momma," Everyone is surrounded by [politics], but I like to lighten it up.
Which current art world trends are you following?
I am sort of tied up with the street art style. It's super popular and it's more accepted. I am a part of this whole wave of [street] art. My art is kind of like street art on canvas. I have several murals that I have done, and I recently did a 32-foot mural for Beaumont hospital. The [mural] was unveiled yesterday. [Street] art is accepted in the corporate world as well as the street world.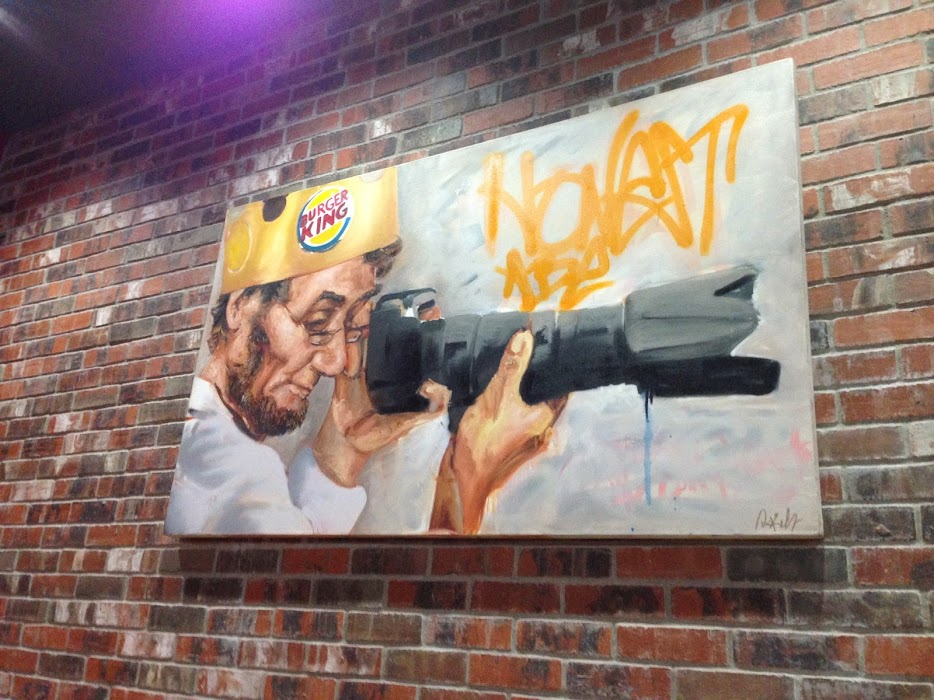 How can people stay in touch with you?
www.Desireekellyart.com
Instagram: @Desireekellyart
Email: [email protected]
Facebook: Desiree Kelly Art