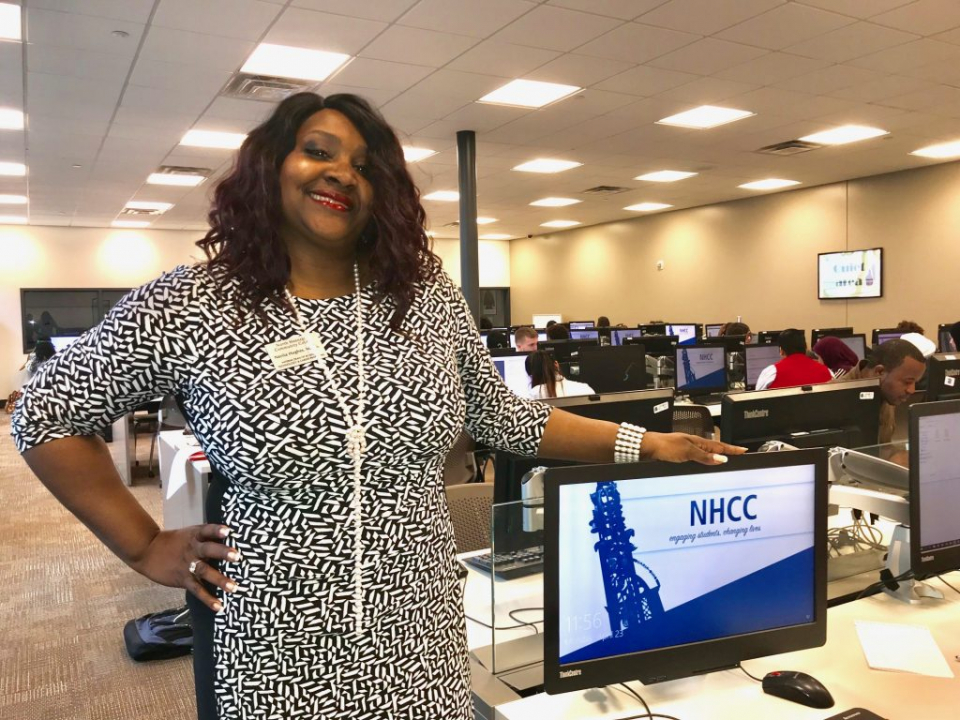 College can be a difficult time for students. From adjusting to being away from home and navigating a new environment to balancing classes and commitments, many students struggle. At North Hennepin Community College in Minnesota, the administration and staff are passionate about helping students to and through graduation. The dean of the School of Business, Nerita Hughes is dedicated to creating real-life experiences and a transitional pipeline for her students so that they can be prepared to enter the workforce after graduation. Hughes told rolling out about her passion to provide the best quality of education and opportunities to her students.
What is an average workday like for you in the world of academia?
There is not a typical day, I'll say that. What drives me around education and my role as the dean of business is I have the opportunity to dig into transactional activities which would be approving schedules, degree appeals or looking at individual classes that I may need to adjust, looking at the budget and looking at fall and summer. I was at the college from 2008 to 2014 and recently came back December of 2017. I was a non-academic dean; now I'm an academic dean. I have been pushing the needle around for workforce and academic integration. I've really been looking at connecting with businesses and other organizations around internship and work experience opportunities. My day can flex at the drop of a hat. It can change by the following day or week. My day started with a meeting at 9:00 a.m. with our president about workforce development and my last meeting ended at 4:30 p.m.
What is the difference between an academic dean and a non-academic dean?
The academic dean deals with the degree, so you are overseeing the programs that are degree driven. Non-academic is continuing education. I was over the continuing education division. That's not academic because the rules and regulations around classes and what you offer are night and day and they are not necessarily driven by the Higher Learning Commission, which is our accreditation body. You're probably doing more innovative and creative classes.
How important is it to have the pipeline for students to enter the pipeline from internships into the workforce?
I think it's extremely important. It has been my big push since I've been here. I've been using the tool. Holistic education is not just getting the students in the door and conferring an associate's degree, but it's also about what can we provide them as far as workforce experience. Those work opportunities may range from anywhere between an internship an externship, summer employment opportunities or on the job training. Before I came back to education, I did workforce development for Ramsey County right here in the Twin Cities. That was the big push, how can you pull together to get a three-prong approach. You get an educational institution involved. You work with a public workforce system. And, you also have the businesses that are involved.
What sets NHCC apart from other institutions or taking classes online?
What sets us apart is our motto engaging students, changing lives. How I engage with a student whether I am a janitor to my level and above, the president, we have those direct conversations with students. They shouldn't feel threatened to have those conversations with me saying hey this is where I am. We can provide smaller classrooms and can embed more intense learning. Our adjunct professors are subject-matter experts. So students are able to have direct relationships with people in the field that you are interested in entering. Before I became the dean, I used to be an adjunct professor in the department I'm working for. I think what sets us apart is the number, not only getting people enrolled in our programs, but getting them to complete the program. We know it's about a sense of belonging. It's like in a business if you don't feel that sense of belonging your leaving.
What are some of the leading programs that have the highest enrollment?
Business is one of them, but because we are a liberal arts college that's where most of our enrollment is coming from. Nursing is our second and Business administration is number three in top degrees that are granted. Our demographics include 46 percent of students that are of color. Over 50 percent are the first generation, so we are attracting students whose mom and dad never went to school. How we provide wrap-around services for that student is going to be huge and will determine if that student will complete the program. We have two student groups that are up and running and set us apart. We have a Black male leadership movement and we also have WOW — Women on Wednesday. Those student groups are two diversity initiatives and students who are in those programs are completing their degree. We are retaining our students of color and that's huge. We have a Hope program that's around internship experiences as well that is specific to students of color. So providing that holistic education and creating that pipeline for businesses that need to diversify their workforce. That is huge in how we are making a difference and seeing the return come back for the institution.