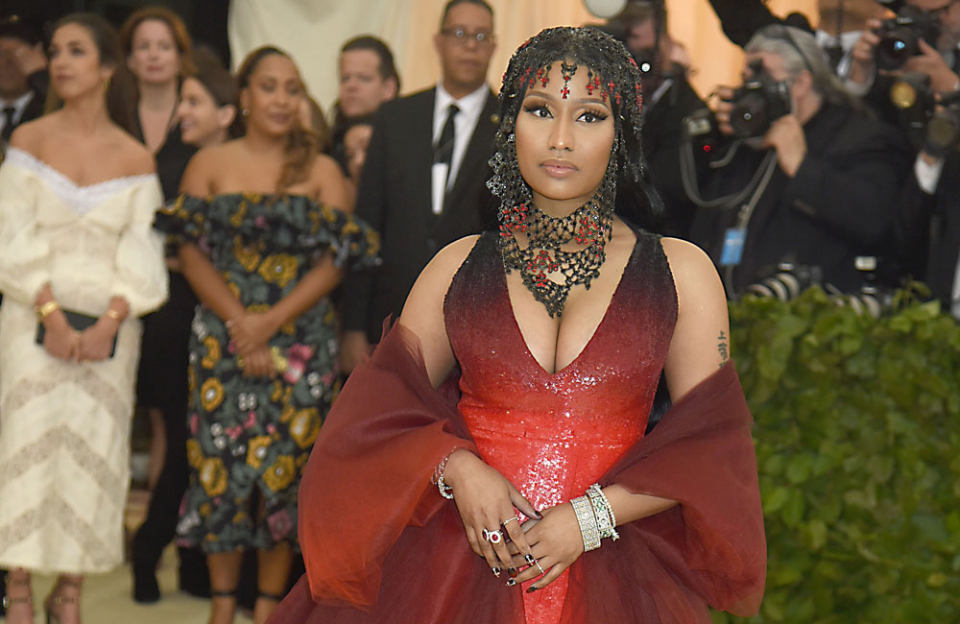 Rapper Nicki Minaj used Monday night's May 5, 2018, Met Gala to announce the release of her new album, Queen.
The "Anaconda" rapper confirmed her long-awaited follow-up to 2014's The Pinkprint will be released on June 15.
Speaking on the red carpet at the annual fashion event, which was held at the Metropolitan Museum of Art in New York City, Minaj shared: "It's a big night for me because I just let the world know that my album is coming June 15 and it's called Queen, and I can't wait. I'm dressed like a queen every day, all day."
The album news comes after Minaj revealed she is going to debut a brand new track on the final episode of "Saturday Night Live" on May 19.
Minaj is one of the special guests on the US show – which will be hosted by Tina Fey – and said fans will get to see her perform one of her recently released singles, as well as the lead track from her forthcoming album.
Minaj teased on Twitter last month: "I'll perform a song you never heard b4. My fave on the album. plus my second song. You can prob guess what that's gonna be."
Replying to a fan who asked if the unheard track was number seven on the track-list, she replied: "Track #1."
The 35-year-old star recently dropped two new singles from her forthcoming record, "Chun-Li" and "Barbie Tingz," and she recently let slip that she is planning a tour.
Replying to a fan, she wrote on Twitter: "I def missed you guys. Thank you to all of you. Creatively, I've never felt better. I'll be able to share soon & see u guys on tour. I saw my official tour schedule today."