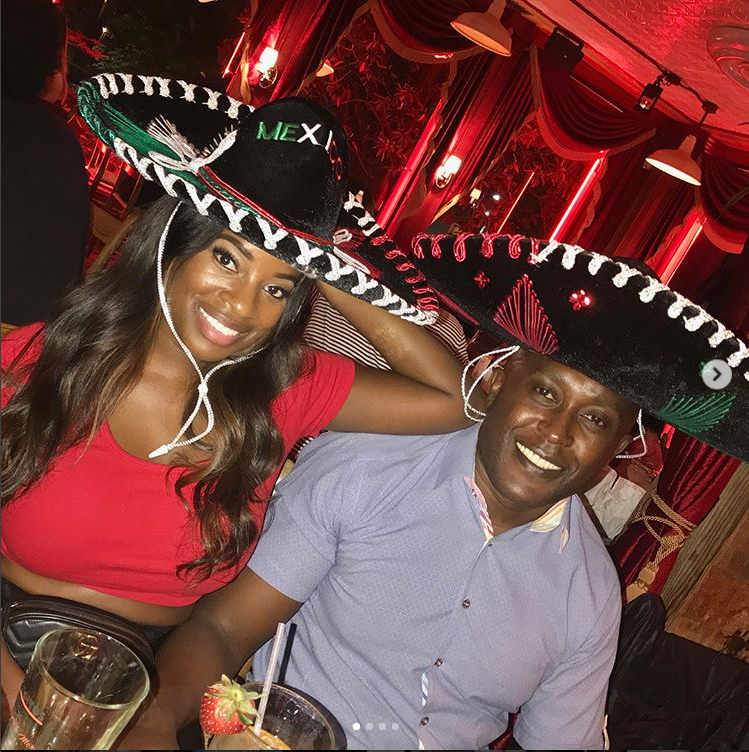 A member of the hit reality show "Real Housewives of Atlanta" is expecting her first child.
This chocolate-coated cutie in question was embroiled in controversy that exploded during the latest season's RHOA reunion. She just got married, and she is coming back for season 11.
No, it is not who you think it is. Her name is not Marlo Hampton.
The mystery woman is Shamea Morton.
Morton is expecting a child with her new husband Gerald Mwangi. The pair got married in an extravagant ceremony in Africa last year. And now they are about to add to their small household.
"I am due around Thanksgiving," Morton divulged to Us Weekly.
Morton, a former Atlanta Falcons cheerleader, made the announcement during her 36th birthday bash at the Sage Woodfire Tavern Perimeter in Atlanta. A few of her RHOA buddies — Porsha Williams, Kandi Burruss and Sheree Whitfield — were posted up at the event to help her celebrate both milestones.
"God has blessed me so much. I've got a great husband that I love so much. I've got awesome, awesome friends and family," said Morton, according to the publication. "The only thing I can ask is for a healthy baby."
US Weekly said the room erupted in roof-rattling applause and screams as Morton and her African businessman husband held up signs to make the special announcement. Morton's card read, "S—t just real," and Mwangi's sign had drawings of sperm and read, "One made it."
Williams indicated she had an inkling that Morton was expecting.
"No one knew except my husband and my sister," Morton said. "Porsha was trying to give me Hennessy. I was telling her I was waiting for my birthday to drink. She knew I was lying; she was like, 'b— you are pregnant.'"
Morton, who doesn't yet know the sex of the baby, said she will hold off with notifying anyone of the gender until her wedding anniversary.
"I never thought I was one of those people who would say I don't care what sex, I just want a healthy baby, but now I really don't care. We just want a healthy baby," Morton said, according to the entertainment publication. "I want two kids and my husband wants five. I joke with him and tell him you are going to do a lot of love making to have five."
The "Real Housewives of Atlanta" IG page noted this: "Omggg Congrats To Our Girl @ShameaMorton & Her Hubby Gerald! 🎉🎊 Shamea Is Expecting 🤰🏾👶🏽 Send Your Well Wishes To The Soon To Be Parents!! 💜 | #RHOA #ShameaMorton #BabyOnBoard."