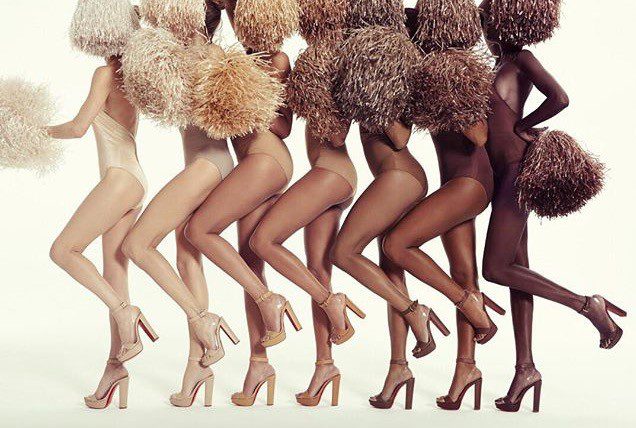 A post shared by Christian Louboutin (Instagram – @louboutinworld) on June 28, 2017
"Give me a N-U-D-E-S, what's that spell? Nudes for all!" –Christian Louboutin
Nude shoes have become a staple in many women's closets. However, when you're looking for the perfect nude shoe to add to your collection you simply think of one shade. This is troubling for women of color looking to elongate their legs. Conversely, a woman's efforts are stunted due to the lack of shades provided by a slew of designers.
In 2013, Christian Louboutin launched a nude collection that consisted of five flesh-toned hues. Louboutin is considered the first major designer to build an inclusive nude brand. Over the next five years, Louboutin continued to increase the collection to over seven different shades. This is incredible, considering many designer brands only carry two hues.
Recently, the iconic shoe designer sat down with British Vogue's digital editor, Alice Caser, to explore why the designer has chosen to include a wider range of nudes in his shoe collection. During the sit-down, Louboutin mentions how a shoe should simply disappear on a woman's foot. Skin color is not one dimensional and should be accounted for in every designer's collection. Louboutin states, "Nude is not a color, it's a concept." Hence, why more shoe designers should come together to celebrate all complexions. On the positive side, most consumers would appreciate luxury brands incorporating inclusive products in their line.
For some, Louboutin is considered a woman's first designer shoe. For others, it's a remarkable shoe that should be cherished and collected over time.
The shoe collection ranges from $875-$895, specifically the Cherrysandal and Christeriva. Both collections are now available on Christian Louboutin's website in seven nude shades.