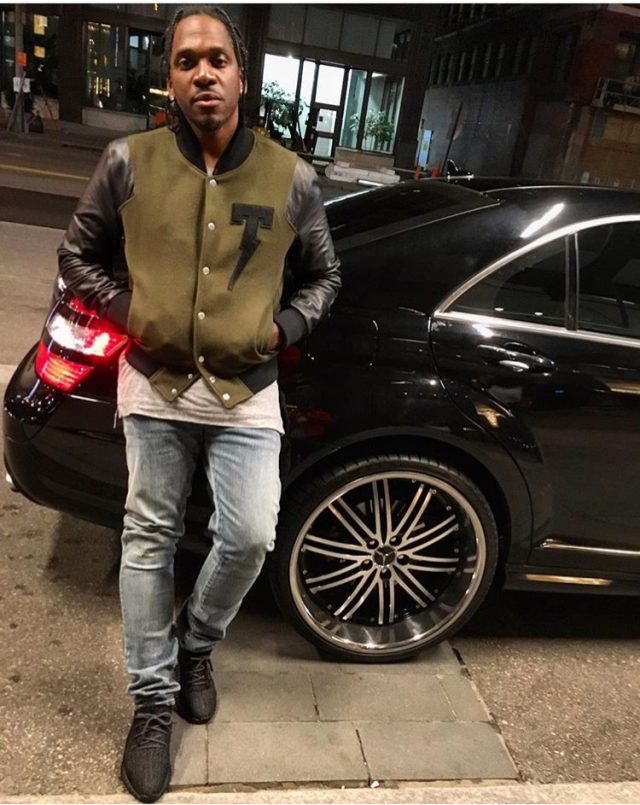 Twitter has erupted as Pusha T released his latest diss record to Drake, "The Story of Adidon." The cover art of the song taken by photographer David Leyes is just as jaw-dropping as the diss track. Drake can be seen wearing a green hoodie and a black face, which has many people raising their eyebrows at the rapper.
Pusha T's photo of the record cover on Instagram was quickly taken down.
https://www.instagram.com/p/BjYqu1hgdLY/?utm_source=ig_embed
The latest diss is a response to the Toronto rapper's "Duppy Freestyle."
Drake released the record soon after Pusha T dropped "Infrared" off his latest album, Daytona.
Pusha T delivers his bars over Jay-Z's "The Story of O.J.," exposing drake for allegedly abandoning his son with the porn star, Sophie Brussaux. Brussaux claims that Drake is the father of her child, but he has denied the accusation.
"Sophie knows better, ask your baby mother," Pusha T raps in the song. He adds, "A baby's involved, it's deeper than rap."
https://www.youtube.com/watch?v=VmwOMtkDxtk
Pusha T didn't just stop at the baby mother allegations. The MC took the diss to a whole new level by mentioning the OVO rapper's mother and father's relationship and his ill friend Noah "40" Shebib.
Shebib was diagnosed with multiple sclerosis in 2005, and Pusha T wanted the world to know that the producer's time could be up: "OVO 40 hunched over like he's 80. Tick, tick, tick. How much time he got? That man is sick, sick, sick."
While some people criticize Pusha T for being in his 40s in the rap game, he proved that he can still compete with even the most popular rappers such as his rival Drake.
Check out the reaction to "The Story of Adidon" from Twitter users below.
Pusha T snapped .. exposed Drake like a episode of Maury. pic.twitter.com/Ag7dfKOMQG

— DJ Akademiks (@IamAkademiks) May 30, 2018
Pusha T diss track was garbage!!!!

Sounds like nothing but gossip!!!!

— OFENTSE POTASE♦ (@ofentse_potase) May 30, 2018
Drake Ghost Writters after listening to Pusha T….. pic.twitter.com/H53MtdKKus

— ㅤㅤㅤㅤㅤ4D Wali Changane (@NoChill4D) May 30, 2018
Pusha T's response to Drake is 🔥🔥🔥

— DaT AkWa IbOm Gee👊🇳🇬 (@ClintonViceB) May 30, 2018
Drake fans at it again complaining about how Pusha T have gone personal, shall I remind you that it's "beef" not chicken? pic.twitter.com/6HJ0QAK3mO

— MR RIGHT (@Mbava_Job) May 30, 2018
Pusha Terrance is Disrespectful. Like 90's early 2000's disrespectful.

— Charlamagne Tha God (@cthagod) May 30, 2018
Pac levels of disrespect.

— Charlamagne Tha God (@cthagod) May 30, 2018
Why was Drake in black face tho? 🤔🤔🤔🤔🤔🤔🤔🙄

— Charlamagne Tha God (@cthagod) May 30, 2018
Pusha T response to Drake 🔥🔥😭

He went in 🔥👌 pic.twitter.com/nOjO1u6Urb

— APEX (@APEXworld_) May 30, 2018
Drake gotta fight pusha T pic.twitter.com/4tj9QrLC6J

— Kevín (@KevOnStage) May 30, 2018
No matter what and how Drake responds, Pusha T definitely left a mark on Drake. Not saying that there's no coming back from it. But between the porn star, the hidden child and the black face photo shoot, this isn't something that anyone will forget

— raweezy (@habibitingz) May 30, 2018
Drake : I can never have a kid then be out here still kiddin round

Pusha T: pic.twitter.com/7Cl5rIfYFU

— Please dont like him (@Andii_iv) May 30, 2018