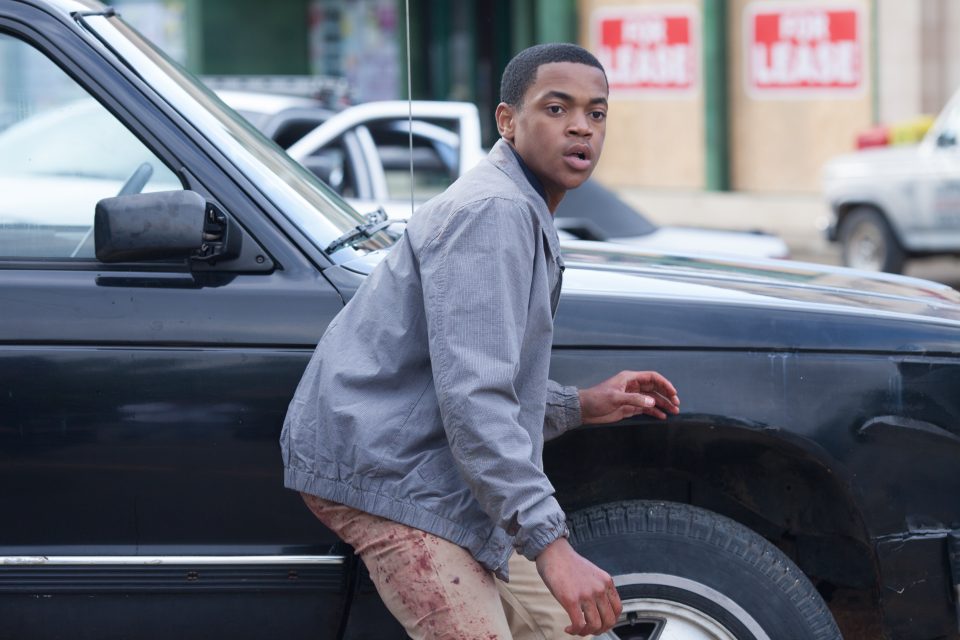 If you are a fan of Starz's "Power," then you are familiar with Michael Rainy Jr., who plays Tariq St. Patrick. Rainey's career jumped off when he was a preteen; it could almost be considered the dream-(he never had)-come-true. He was in a foreign film and since he's played in Barbershop: The Next Cut and Lee Daniels' The Butler.
He shares a little of his backstory here, "I got my start in acting when I got scouted by a lady from an agency called Generation. My mom and I were in New York City walking and she just came up to me and asked if I acted or did any type of modeling because you have the face for it. My response was 'No.' We ended up going to her office and the next week she got me auditions for "Sesame Street" and "Law and Order."  Before that, I started out doing print work for Target and companies like that. My first role was in "Sesame Street" and I did this music video for an Italian singer and that's what landed me my first movie. That movie was an Italian film called Un Altro Mondo directed by Silvio Muccino. When I got scouted I was 8 and 9 when I did my first movie."
Next up, Rainey, 17, will co-star alongside Nicolas Cage in the bank heist thriller 211. The action-packed movie hits theaters Friday, June 8.
Here's the rest of our interview.
Tell us about your new movie 211 and your character.
My character in 211, Kenny, is a quiet, timid kid. He deals with problems of being bullied. In the movie, it just shows him grow and have to take responsibilities.
What was it like on set working with this cast?
It was a great experience. Nicholas Cage said I was one of his favorite co-stars so that made me feel really good. Working with everyone was really fun and I loved it.
How has your role on "Power" prepared you for this film?
I just try to read and get a feel for who my character is and what his traits are. I don't do too much preparing. I just try to go at it naturally and feel it out as I go.
What advice do you have for young people pursuing acting?
My advice to young people doing what they want is to stay motivated. And, don't let anyone try to change your path or your passion. Stay motivated. Stay focused and stay humble. Always be yourself. You always get the best when you are yourself.
Who are some of your mentors in the industry or the best advice that you've been given from an actor you look up to?
50 Cent — Curtis Jackson — and Omari Hardwick … they always give me advice while were filming "Power." The best advice I've gotten was from 50, which was "Don't ever feel too entitled never because that's when you deprive yourself." I love being on set with them because they are always dropping gems.
I hear you enjoy making music, talk a little bit about that.
I love music, I started when I was 5 years old. I heard a song on the radio at my grandma's house and it had such a catchy melody. It was called "The Bridge Is Over" by KRS-One. I got home and I played it. And my mom was asking me where did I hear that song. She told me to listen to the other parts of the song and I did and ever since then, I have been playing piano by ear. Now, I am a producer and I produce for different artists.
What's your next project?
I'm going to direct a film this summer and we are writing it now. We don't have a name for it yet, but it is in the works. It's going to be my first time directing and I'm kind of nervous, but it should be fun and I'm ready for it.