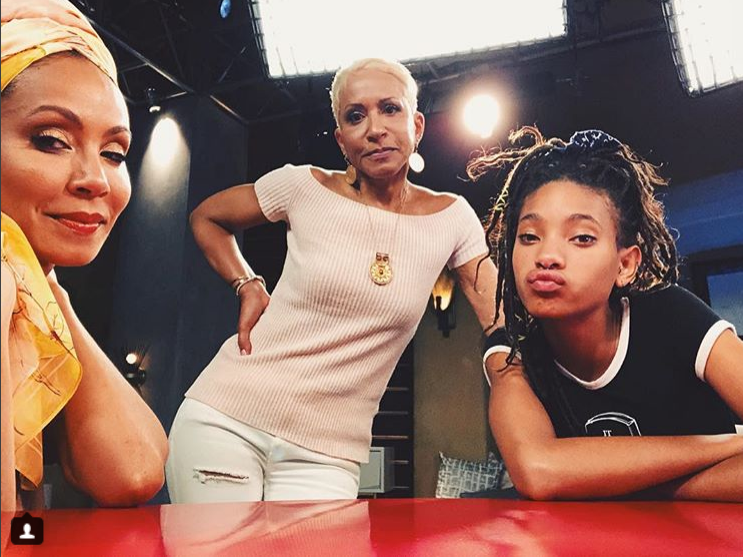 Jada Pinkett Smith's fantastically popular Facebook Watch series titled "Red Table Talk" has awed its vast audience with its raw-as-onions honesty and fearlessness in tackling sensitive subject matters.
In the latest episode, the show's poignant content even reduced Pinkett Smith, 46, to tears.
This "Red Table Talk" featured the beloved actress' son Jaden, 19, as well as daughter Willow, 17, and Pinkett Smith's mother Adrienne as guests. As she has shown in previous power-packed episodes, Pinkett Smith is not afraid to broach even the deepest and most intimate family feelings.
Her teen children talked about what it was like to be reared in the pressure-packed, ultra-famous household headed by Jada and Will Smith.
Willow Smith revealed she was very upset with how her parents handled her and treated her following the release of her hit song "Whip My Hair" in 2010.
"I only have one terrible experience, which is 'Whip My Hair.' Just that the values of the people around me should've been the opposite," she said bluntly. "You and daddy should've been like, 'OK, we value her musical growth and knowledge more than her popularity.' ''
Jaden Smith noted that he experienced something similar as well and added, "Not just so much about a hit record."
Apparently, Jaden Smith's most difficult time growing up also happened when he, like his sister, created a blockbuster project. His was the starring role in the classic film Karate Kid starring Taraj P. Henson, which also came out in 2010.
Pinkett Smith tried to rationalize her and Will Smith's behaviors were resultant of their own turbulent childhoods in the mean streets of Baltimore and Philadelphia, respectively.
Jada says she grew up in a pretty violent neighborhood and sold drugs in the past.
Meanwhile, Will Smith experienced a "lot of abuse" coming up.
She said, "For us [it's] that survival mentality. Your dad and I, we were like, 'Oh man, she will be set up for life, this is her start.'"
"Make them a freaking workaholic soldier so that they can always take care of themselves," Jaden said about his parents' mindset during that 2010 time frame.
That is when Willow remembered she shaved her head when she was just only 11 years old.
She recalled, "It had everything to do with it [my post-fame struggle]. It is funny, there's a Nirvana lyric that says, 'I shaved my head, and then I'm not sad.'"
Later on during the show, Pinkett Smith broke down in tears as she realized she was far from a perfect mother but that she has done her best.
She said, "You know what? I think parents have to give themselves much more forgiveness. When you become a parent, you have huge ideals, even for yourself, because we are all coming into parenting with our own childhood traumas. And you are hoping you can fix all that through your own rearing of your children, and you cannot. Your kids are going to have their burdens. And even though I see how it might have hurt you, it's what I knew."