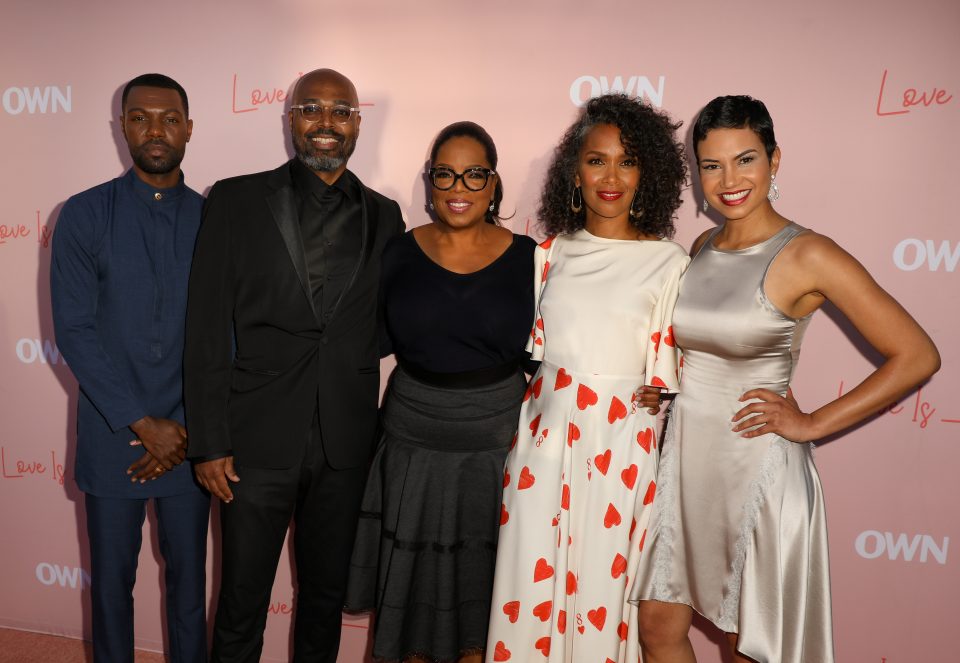 Salim and Mara Akil created an upcoming series and relationship dramedy, "Love Is___." The show is based on a true story of a husband and wife navigating Black Hollywood. The show will air on OWN. "Love Is___" explores the highs and lows of love. The '90s based show will celebrate Black culture in all of its glory. Rolling out caught up with show leads Michele Weaver, who plays Nuri, and Will Catlett, who plays Yasir.
How did you get your start in acting?
Will Catlett: I was playing basketball and I met a guy who had the whitest teeth I'd ever seen. I asked him what he did for a living and he responded that he was an actor and I said oh… I always wanted to do this. I went to an acting class at Bobbie Chance Studios in Los Angeles and it was $25 I remember it like it was yesterday. The rest was history, right there I knew acting was what I was supposed to do.
Michele Weaver: I did all types of things growing up, I was very involved in the arts. I did theater and acting in middle school and high school and I wasn't going to do it as a career. There was a college audition for 25 spots was open and I had already applied to eight schools as a psych major. I got so much attention and ended up getting a theater scholarship to Pepperdine, so that's when I knew where I was supposed to be, I turned down eight schools.
Tell me about the new show "Love Is" and your roles on it.
MW: "Love Is" is what we call a romantic dramedy, a 60-minute series. It's a show that explores the in's and outs of love and the good and the bad. Within that, you get to see two people find themselves in their careers and their purpose along the way. My character Nuri is bubbly; she's a writer. She is a girl who isn't taken very seriously and wants to be because she has a lot to say. Together you see us as two people who have similar interests and visions in the world and they find each other amongst the chaos of the world.
WC: "Love Is" to me that love doesn't play by your rules that you try to put in a box. We explore those [rules] with these two characters. In a perfect world, she'd probably have a man who had a job, who didn't have a kid … you know this list of things that women have, and men have lists, too. Love is love and when that love jones drops down on you … As far as Nuri and Yasir, they both have common interests; they are just in two different places moving at two different paces in two different spaces. You see them trying to find each other and love is drawing them together. Yasir is the type of guy that follows that hunch. Even when things don't seem right in the world's view, in his own view, he knows this is the direction I should be going in. These are the signs that are leading up to him falling in love with Nuri.
What are the messages you want the audience to take away from this show?
WC: I think for me, it will be great to see a real man on television, a man that is praying, that is saying real things, that is going through a struggle. It doesn't feel like writing. You have writers that write and you see the writing in the characters versus you seeing a live breathing human being experiencing these things as torn for the decisions he made. Do I follow my dream which Nuri is a part of or do I stay complacent to what the worldview has of me like I do have a son should I go home, I do have it good with my old girlfriend Ruby or should I move with this progression of Nuri, this love and what do I do?
MW: I think the message that I am so drawn to with this story is I think we put rules in place for life in general and then real life happens. We say, if I was in her situation I would do this, if that happened to me I would do that, but you never know until you are in it. You never know until these decisions are being placed in front of you. It would be amazing for people to get the message about trusting your instinct and not getting caught in the rules and living in the moment. This is a story that is based off real successful people and you get to see them in the beginning. We live in a society where everything is microwaved … so this is refreshing because it reminds us that the things worth having take work and time. Getting the message across to enjoy the process of things and enjoy the process of love, building a career and finding yourself.
How did you prepare for this role?
WC: I was made to play this role. I did "Black Lightning" and Salim hugged me on set and he gave me something. I didn't know what he gave me at the time but he gave me permission to play him. All Salim ever needed in his personal life was an opportunity, and all Will Catlett ever needed was an opportunity and I can identify with that.
What is the best piece of advice Mara Akil gave you?
MW: The best piece of advice that she's given me is to stop overthinking it. Just be the Julia Roberts of Black women, just a woman who is allowed to be giggly and bubbly in love. You don't get to see that in the Black space.