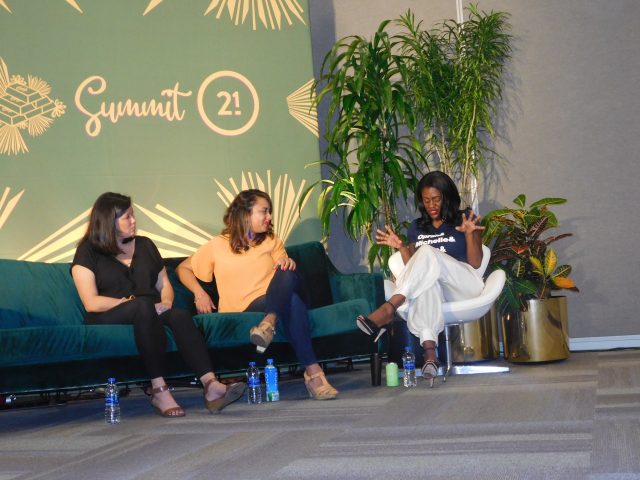 Launching a business in the tech industry can be tricky for new entrepreneurs.
Learning how to invest in a business and finding and managing people are also strenuous tasks.
However, people of color are beating the odds of launching their own businesses in technology.
Monique Woodard, co-founder of Black Founders, is contributing to the increase of Black entrepreneurs in technology.
While at Blavity's Summit 21, Woodard discussed the importance of the organization and its impact on people of color in the tech world for economic growth.
"Black Founders was founded in 2011. As a community of founders, we wanted to come together to support each other, but also wanted educational resources and access to a network," Woodard said.
With a desire to build a network for Black entrepreneurs all around the United States to help grow their business, Black Founders' ultimate goal is to help more successful Black entrepreneurs in technology.
The organization has done a lot of that since being founded and now Woodard has moved on to the venture capital side of the table.
"We can do … community building and education, but unless we're able to control capital, none of that matters. I'm completely on the capital side of the market now," she said.
For Woodard, technology has led to even more innovation.
"Everything you do touches technology in some way; for instance, working from home. Essential technology such as artificial intelligence and machine learning are going even further, changing the way we interact with technology in the workplace," Woodard said.
Technology has made workers execute with less effort, and Woodard provides tools of information in a clear, direct way to those aspiring for tech entrepreneurship.
Along with being an entrepreneur comes a great deal of leadership.
Jacqueline Baker, innovation program manager for AARP, says that you must be a leader to lead others.
To grow as an entrepreneur, you must also take risks for your company to see endless possibilities.
However, Baker mentions that those risks don't mean what you have already built for yourself and business should be put at risk.
"It's up to you to take wise risks. Taking risks means stepping a bit out of your comfort zone. That doesn't mean risk it all but make small changes day-by-day," Baker said.
For those struggling with the idea of risk taking, Jewel Burks, co-founder and CEO of Partpic says that "you have to have confidence that you can execute the idea better than anyone else."
Jacqueline Baker, Monique Woodard, and Jewel Burks continue to increase representation of people of color and access to the technology while helping mold a new generation of entrepreneurs and leaders.
See pictures below.