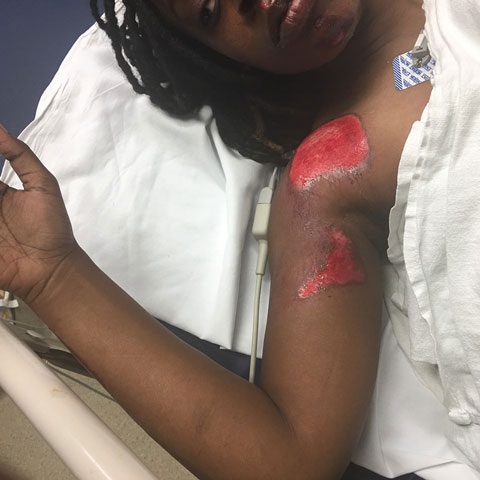 In the past 18-months of the Trump administration, Black America has been subjected to countless injustices. From police shootings of unarmed Black men to not being able to have a barbecue without having someone calling the cops, these racial "twilight zone" moments keep happening.
Consider the story of Breeja Wilkins, 21, of Prince William County, Virginia. Back in May 2018, she was riding with a friend when she experienced tire trouble on I-95. She got out the car to check her tire and took off her shirt to cool off on a hot day. A White man in a pickup truck, later identified as Robert T. McGee,51, pulled up to Wilkins and told her to put her shirt back on.
According to Wilkins' passenger, McGee started yelling racial slurs and using profanity, continuing to demand that Wilkins put on her shirt. Wilkins, did not back down from McGee and confronted him and was standing in front of the pickup truck. Suddenly McGee jumped into the truck hit the gas and struck Wilkins with his vehicle. She was dragged several feet before he sped away down the road. The hit and run was captured on video according to police.
Wilkins lost skin on her shoulders, arm, and legs and had to undergo a skin transplant for her injuries, her parents told WUSA News in Virginia.
Virginia State Police were able to track down and arrest McGee this week and he was charged with hit and run as well as a misdemeanor assault. Police also charged a battered and bruised Wilkins with being a pedestrian on the interstate and improper stopping on the interstate.
Pictures of Wilkins injury were posted to social media by a Facebook user named Monique Moore and the post went viral after being shared 13K times in a week. Now her parents are seeking justice and demanding that McGee be charged with a hate crime. Shaunta Wilkins and Kevin Boston spoke to the Prince William County NAACP and media Tuesday. WUSA 9 TV reported that the couple were told originally that their daughter was only going to be charged with obstruction of traffic. Prince William County Police have stated to media that they have no further comment and the case has been passed on to the Virginia State Police.