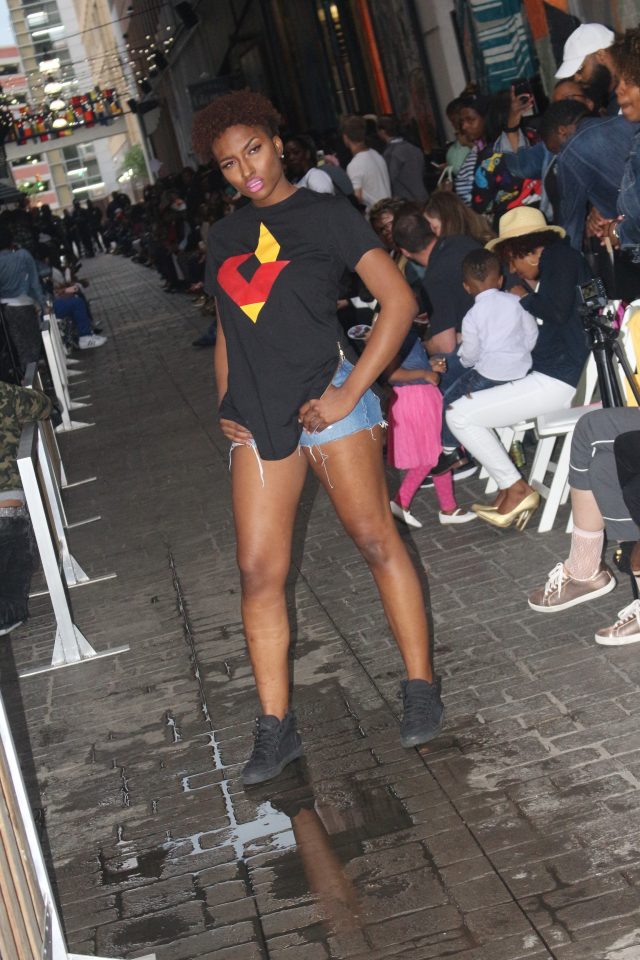 The Social Runway '18 fashion show, presented by the e.Lane group, was created to be an upscale fashion experience designed to highlight top fashion designers and entrepreneurs in metro Detroit. The upscale fashion affair was held on Sunday, June 10, 2018, at The Belt Alley located between Broadway and Library Street in downtown Detroit. It was a multifaceted, interactive, and social media driven production that celebrated fashion, music, and art.  
This fashion show slayed several interesting elements, with the most fascinating being that it was simultaneously live-streamed on Facebook, YouTube, Instagram, Periscope, Twitter, and Twitch, thus providing international viewership to those in cyber land, in addition to the hundreds that attended in person.
The show embraced a unique and artsy ambiance in the chic backdrop of a burgeoning alleyway full of colorful murals, unique sculptures and more. The models displayed select designers' fashions on a 400-foot, catwalk-inspired brick-paved alley. Apparel was worn from designers and brands including Under Amour, Moosejaw, Detroit Denim, The Rodney Howell Collection, Karew Apparel and more. The affair united veteran and new designers and was free for all that attended.
Aside from the beautiful fashions that were modeled, this fashion affair offered networking, cocktails, and mingling and also infused style and entertainment for every fashion lover that attended. In addition, local band JukeBoxx Inc. provided live music, adding to the swanky setting.
Check out some of the pictures from the event and visit their website at www.thesocialrunway.com for additional details on designers, future shows and more.