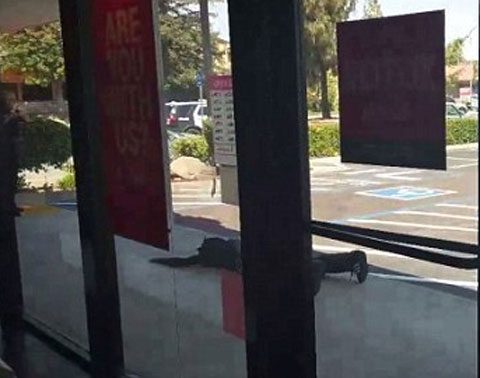 In yet another installment of #Hello911TheyBlack, two African American men shopping found themselves in a potentially deadly encounter with police. According to published news reports, the incident occurred at a T-Mobile store in Fresno, California, and involved Dorian Johnson, 26, and his uncle Vincent Lemar, who went looking for the new iPhone. They were driven to the store by Dorian's girlfriend, Gloria Bush.
Bush dropped the two men off at the T-Mobile store while she ran errands nearby. According to The Fresno Bee, both men had been in the store for several minutes, and Lemar had given a store employee his work ID as part of a credit check. Meanwhile, Johnson, who had his ID hanging around his neck, continued to browse phones and features.
Suddenly, police arrived at the store and ordered Johnson outside and onto the ground at gunpoint. He then was ordered to crawl toward police. His girlfriend had just pulled up and began screaming as she saw her babies' father on the ground and police with guns drawn. She told the media she thought he had been shot by police but then Johnson yelled to her to remain calm. Lemar remained inside the store until police called him out. Both men were handcuffed and questioned about why they were in the store.
As it turns out, an unnamed security guard at the store had called 911 and reported that the store was being robbed. The two men were released by police when it was determined that they had just come in to shop. Johnson also pointed out that his uncle had just given a store employee his ID and that he was also wearing his ID badge, making them unlikely robbers. Shockingly, there was a Black employee also helping the men who said nothing to officers at the time, according to Lemar.
T-Mobile issued the following statement about the incident, which occurred June 25: "The safety and comfort of our customers, our TPR dealers, and their employees is paramount to us. We are taking this incident very seriously and are actively investigating to determine exactly what occurred. Though we have found no evidence that the employees acted improperly, we would take definitive action if we did."
Lemar also posted a video of the incident on Facebook and wrote: "This was racial profiling at its finest. Prejudice in its precipice …And T-Mobile should do something about this highly uncalled for but totally avoidable misunderstanding. (sic)"
The video can be seen below:
https://www.youtube.com/watch?v=O_OdQ1nAAzQ