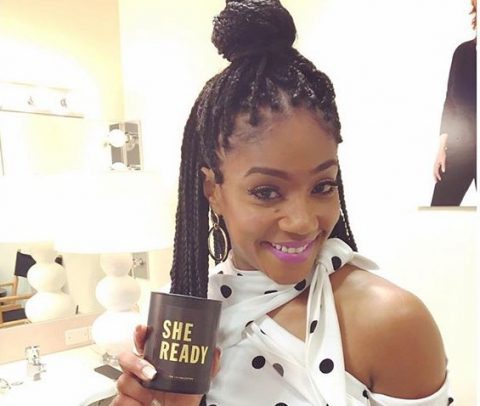 Actress and comedian Tiffany Haddish admitted that, if her career as a Hollywood star doesn't quite work out, her fallback plan is to head into teaching, where she'd love to teach her students about the importance of safe sex.
She said: "I don't mind being a teacher. I always say, 'If this comedy thing doesn't work out, I would probably be a sex education teacher.' I would be the best sex education, teacher. I guarantee none of my kids would have STDs after I finish teaching them."
But it doesn't look as though the Night School star needs to worry too much about her career slowing down, as she's still got plenty of projects lined up for her to sink her teeth into.
Haddish, 38, points to former wrestler-turned-actor Dwayne "The Rock" Johnson as her inspiration when it comes to building an empire.
She added: "I've been studying him a lot on YouTube and stuff. I'm like, if he can make $65 million, I can make $65 million, too. I want to get on that Forbes magazine, not for the money, but to be an example to other foster youths that it doesn't matter how low from the bottom you are, you can always rise to the top if you believe in yourself."
And the Girls Trip star has been using her success for good causes. Not only does she donate to foster children, but she also uses her wealth to support her family.
Speaking to Glamour magazine, she said: "I'm just glad I got some money now because now I can do a better job at taking care of them. I got my mom out of the mental institution like I said I would in December, and I got her an apartment with my sister and a nurse that comes to her.
"I ain't never said this out loud, but I want to be able to give every one of my siblings a million dollars to create whatever they want to do. That's $4 million dollars that I don't need."