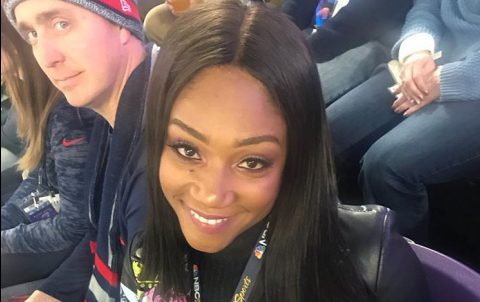 Tiffany Haddish has joked that having Leonardo DiCaprio's baby is on her bucket list.
The Girls Trip actress has opened up about what experiences she still wants to tick off in life, and said she has let the Hollywood superstar know her feelings after meeting him "one time."
Speaking to "Extra," she teased: "Ya know, I'm trying to get pregnant with Leonardo DiCaprio. I met him one time. I let him know. He thought it was hilarious. He laughed."
The 38-year-old star won't be too disheartened if it doesn't work out though, admitting a fling with Black Panther star Michael B. Jordan would also be acceptable.
She added, "Michael B. Jordan can get it, too. I don't want to have kids by him, but we can do it once, or twice… at least have a dinner."
One famous face who probably isn't on her list of potential partners is Drake after she starred in the 31-year-old rapper's music video for "Nice For What" in April. Tiffany has revealed that after shooting the promo he invited her out for dinner in Los Angeles, but he canceled at the last minute due to a "family emergency" — which cost her $100,000.
Appearing on her co-star and pal Jada Pinkett Smith's Facebook chat show "Red Table Talk,"  she said, "He's like, 'Let me take you to dinner.'
"I was like shoot, I'm gonna get my mustache waxed, get my armpits waxed. Got me a nice little dress.
"I was like OK, I could have made $100K today, but I was trying to see what that D do."