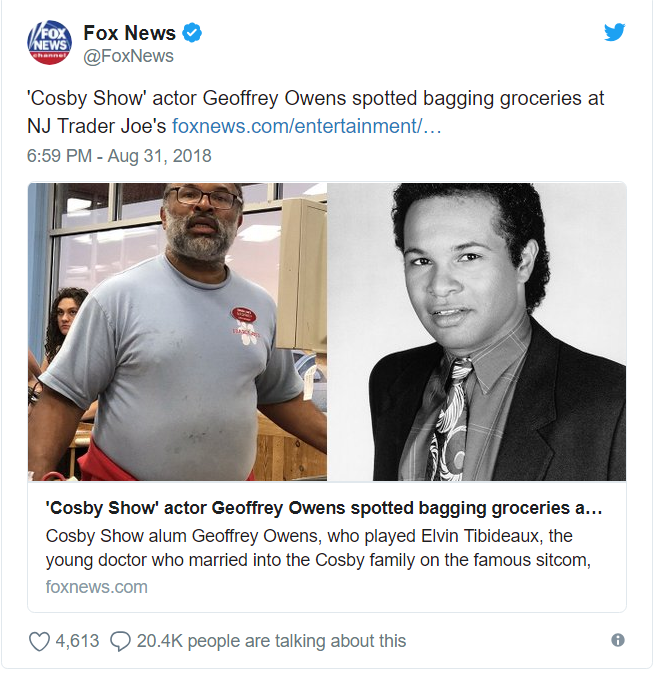 To the misinformed pop culture observer, celebrity status is tantamount to endless wealth, butlers, mansions, 5-star restaurants on the regular and a battalion of luxury whips.
Reality is radically different, as many rappers who stunt in public already know. The more informed fans are well aware of this fact, which is why they are furious with the many media outlets that tried to shame former "Cosby Show" actor Geoffrey Owens for having a side gig bagging groceries and running the register at Trader Joe's in Clifton, New Jersey, about a half hour northwest of New York City.
This past weekend, a story regarding the theater actor was published by Daily Mail and shared on Fox News when customer Karma Lawrence snapped a photo of Owens working at a Trader Joe's in Clifton, New Jersey.
Lawrence, who is the wife of the store's security manager, said she was shopping when she noticed the "Cosby Show" alum, now 57, and posted this photo.
Owens, who played Alviln Tibideaux from 1985-92, has upcoming projects that include the film Impossible Monsters and the short film Fizzle. In addition to listing his accomplishments, fans called out the outlets for shaming the actor for having a "regular job."
The story was picked up by a number of outlets but that didn't stop fans from coming to Owens' defense. Owens is not only an acting teacher at the Herbert Berghof Studio in New York but a consistently working actor.
He's appeared on plenty critically acclaimed series like "Elementary," the FX comedy "It's Always Sunny In Philadelphia," HBO's "Divorce" and "Blue Bloods."
He's also been the source of inspiration for fellow working actors.
A fan captioned her above photo this way: "Television images often times serve as our mirrors, showing us the good, the bad, the most possible versions of ourselves. The truth. As a child this man and the entire cast of "The Cosby Show" took me on a journey and allowed me to see a world outside of my own. As an adult having studied under this great human being, has been nothing short of amazing. Allowing me to dream, stretch, create, and be my truest most authentic artistic self. Thank you Geoffrey Owens for being an incredible teacher, mentor, and forever friend. You keep holding that mirror up and forcing me to see myself for who I truly am and I love you dearly for that. #actingclass101 #mentorship#geoffreyowens #dothework #craft."
Online, Owens' defenders ripped into the folks who sought to shame the actor-director-teacher for looking down a regular gig at Trader Joes: