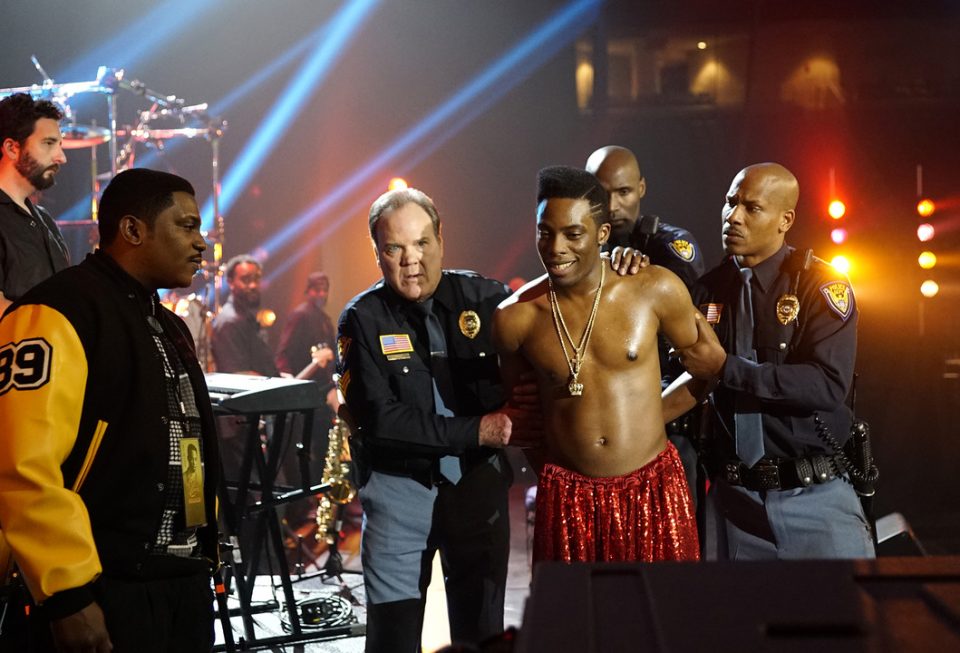 He was the bad boy who helped put the R&B group New Edition on the map and won pop diva Whitney Houston's heart. For decades, fans have viewed the life and career of Bobby Brown through the lens of television, tabloids and courtroom appearances but were left wondering about the secrets and untold truths of his life behind the scenes — until now.
Teaming up with BET and Jesse Collins, executive producer of "The New Edition Story," the "My Prerogative" hitmaker will be the focus of a gripping, two-night miniseries, "The Bobby Brown Story." The miniseries event will delve into the stellar rise, near demise and subsequent redemption of the artist who was once esteemed as the "King of R&B."
Picking up where the critically acclaimed 2017 miniseries "The New Edition Story" left off, actor Woody McClain reprises his role as Brown in "The Bobby Brown Story," painting a picture of the R&B legend's struggles with stardom as a solo artist, his music, his relationships, including a short-lived one with pop superstar Janet Jackson (played by Cree Davis) and a tumultuous, nearly 15-year marriage to Houston, the late vocal powerhouse and pop icon (played by Gabrielle Dennis), from 1992 to 2007.
Recently, rolling out had the opportunity to talk to some of the cast and Brown's friends at the miniseries' screening and "Bobby-Q" on Saturday, Sept. 1, on the lawn at Atlanta Contemporary Arts Center. They shared their experience and what fans should look forward to from Bobby Brown.
According to Bobby Brown's book "Every Little Step," he stated he had relations with Janet Jackson. You're playing her role in this movie. How was it for you to know that was going on?
Cree Davis, who plays Janet Jackson: It was interesting, to say the least. If people thought they knew Bobby's story, they have to see this movie to truly know his story. It's a lot of juice, a lot of highs and a lot of lows, but he made it through his trials and tribulations.
Do you think Janet would be proud of the way you portrayed her in this series?
I don't know because I haven't talked to her, but I hope she appreciates it. I hope she appreciates Bobby telling his story, even though it includes her. I've played several roles because I've been acting for quite some time, so I'm blessed and honored to be playing the role of an icon.
How did it feel to be a part of the "New Jack Swing" with Bobby Brown?
Damion Hall of the R&B group Guy: The New Jack Swing started with Guy, with Bobby being introduced into the era because Teddy Riley produced "My Prerogative." It was a great thing. Now Bobby is doing his thing. He has this documentary and New Edition. I think this is going to be a great situation for him. I'm proud of his future endeavors.
The first part of the two-night biopic premieres tonight, Sept. 4, on BET at 9 p.m. (EST)/8 p.m. (CST). The second part airs Wednesday night, Sept. 5, at 9 p.m. (EST) 8 p.m. (CST).
Check out photos from Atlanta's screening of "The Bobby Brown Story."