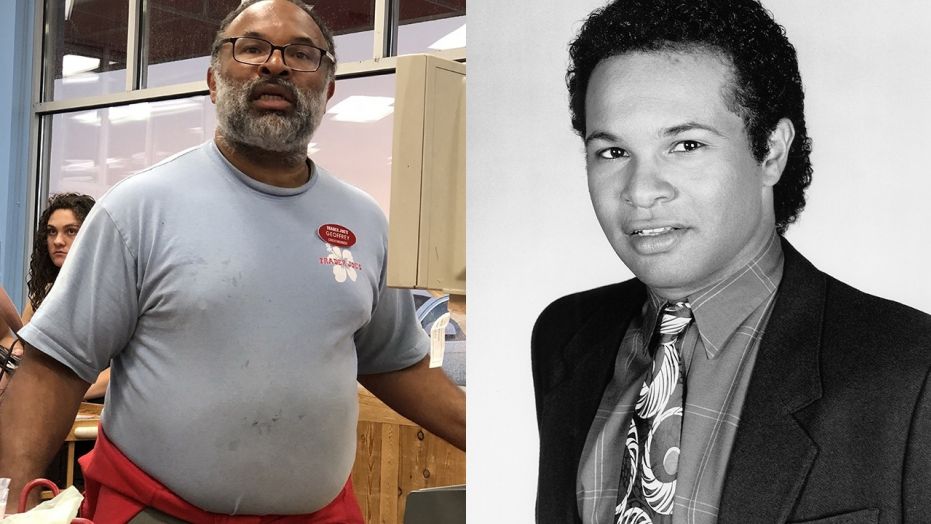 The Trader Joe's customer who shamed former "Cosby Show" star Geoffrey Owens is deeply sorrowful that she surreptitiously snapped photos of him at the register and then fed them to the tabloids.
Owens, who said he was initially devastated by being "outed" for working at the grocery store, has been buoyed by the tremendous outpouring of love — and possible job offers — from the likes of movie mogul Tyler Perry.
The photos of an older, graying Owens, 57, working at the supermarket in northern New Jersey, went viral after shopper Karma Lawrence submitted them to a few celebrity websites, and Fox News and the Daily Mail published them.
A contrite Lawrence, a big fan of Owens and "The Cosby Show," told the NJ Advance Media that she had no idea that he would be subjected to international humiliation and that she wishes she could take it all back.
"I don't know why I snuck a picture," said Lawrence, 50. "I figured everybody does it. I don't know what possessed me. I just did it. I didn't even think about it. I just kind of did it on impulse, and it was a bad impulse."
Since the publication of those now famous photos of Owens, who played on "The Cosby Show" from 1985 to 1992, in a stained shirt behind the cash register, the entire Hollywood and athletic community has seemingly rallied around the actor, writer and former Yale University teacher.
Furthermore, the hate that has crashed down on Lawrence has been tremendous and unrelenting. "So much hate. So much nastiness. Oh, it's been terrible," she told NJ Advance Media. "They write Karma's a b—-. It's bad."
Lawrence reiterates she had no idea what she hatched when she uploaded those photos, and when she learned how it came out after it was published, she said she cried for a half-hour.
"It wasn't malicious," she said. "That's on my kids, my grandkids, my parents. I'm not that type of a person. I'm not the monster they're making me out to be."
Lawrence said the blizzard of incoming hate on social media forced her to shut down all of her platforms. She said she cannot sleep knowing that she unintentionally hurt a man she loved as a kid. She said "The Cosby Show" was her "favorite" and called Owens' character Elvin "goofy and funny."
Lawrence said she now understands how her actions have come across and wishes she had obeyed her first impulse, which was to say "hi" to him.
"I actually wanted to go up to him and say something, but I thought, you might embarrass him," she said. "But then I did something that actually embarrassed him more. I didn't go with my first instinct, and I should've. I should've."
Lawrence said she doesn't know how to reach Owens but wishes she could. He reportedly has since quit working at the store, but the good news is he is now fielding myriad job offers.
"I would tell him, 'I am extremely, extremely apologetic about what has happened,' " she said. "And if I could take it back, I would."
It looks like, in the end, things are working out for Owens — and then some — especially since Tyler Perry invited him to join his crew on the set his next OWN network drama.
Owens, both wary and excited, apparently will take Perry up on his offer and see how things play out.
"I mean, that kind of sounded like he was saying, 'Come work with me.' I'm so, like, skeptical. Like, really? Are you actually saying come work with me? Because we've never worked together before," Owens told "Entertainment Tonight" in an interview. "So, that's a very, very generous thing for him to say. And we'll see what happens with that. But that's encouraging."