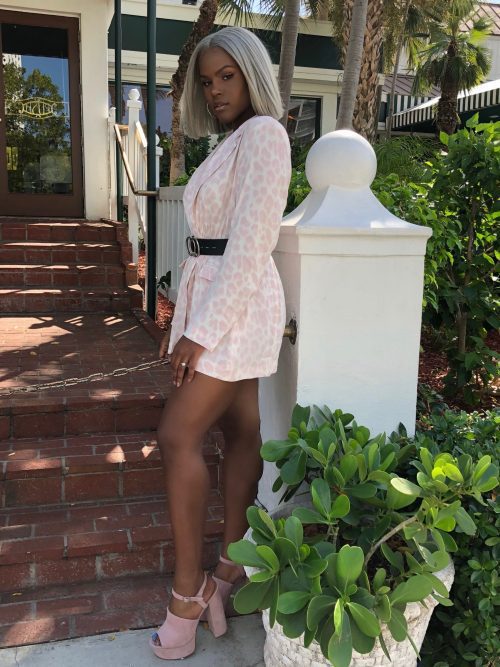 Singer-songwriter Teenear started out singing covers on YouTube as a teenager. It wasn't long before her videos, voice, and vivacious personality got her noticed, including by Slip-N-Slide Records, which signed her a recording contract. Today, at 20, the Miami native has a few singles under her belt, and her career is starting to take off.
While in Miami for BET Hip Hop Awards weekend, rolling out sat down with Teenear at Smith & Wollensky Miami Steakhouse in Miami Beach to discuss the launch of her career, her musical influences, her sound and more.
How did you get your start in the music business?
I started at 15. I decided to start posting covers on YouTube. My very first cover was "Stay" by Rihanna and getting all the positive feedback from my friends and my family is what really gave me the courage to really pursue this as a career. After that, I finally got to get into the studio and started recording things. A few months later, I got to write my first single, which was "Friday Night" by Sage The Gemini, and it just came out. I was actually working with a producer out of Atlanta by the name of Anthony, and we just created something great.
Who are your biggest inspirations?
I would say Michael Jackson and Beyoncé are my biggest inspirations mainly because they both started when they were young and, through music, they created something bigger than themselves. That's my ultimate goal in my career. At the end of the day, I want to be able to build a brand that goes on forever.
I also like Brittany Spears. I've always loved her, especially when I was younger. She was my first concert ever. I love Mariah Carey, Whitney Houston, Aaliyah.  Just looking at them perform is amazing to me. And if we are talking about now artists, I'm really inspired by Bruno Mars. I love his music. It's just so different, and being different is something that I want to do throughout my career, so he's somebody I look up to right now.
How would you describe your sound?
I would say my sound is like urban pop. It's like a new pop because I like to have a touch of R&B in there, but it's not completely R&B. However, I just love music in general, and I want to be able to just express myself and show diversity in everything that I do.
What are you currently creating?
I'm finally creating my own band. I am going to be able to dance and achieve one of my biggest goals. I love being able to really sing and connect to the crowd that way, but I also love dancing and getting the crowd excited.
I also just put out my new single "Need Your Love," and it's been doing really great. I'm actually really happy about it as well as my single, "All I Want." It's on every streaming site right now — Spotify, Apple Music, ITunes and YouTube. I will be putting out the video very soon.

With your recent success, do you have any fears of the music industry?
I don't really have any fears right now. I feel like I have a purpose here, and I'm really just trying every day to live it out because I know that this was a gift from God, and I want to be able to just let the world see it.
What are some words of encouragement you have for others who may want to follow in your footsteps?
I really think just stepping out and actually doing something that you've always wanted to do is imperative. Being scared doesn't get you anywhere. I am honestly not worried about what others think of me. So my words of encouragement are to live your life … and put out music that [you] love and to inspire people.
You have 54,000 followers on Instagram. Do you feel that social media has a positive influence or negative influence on the industry today?
I feel like a lot of people are stuck in social media age, but honestly, I'm really just about being who I am. I want people to be able to look at me and say, 'Oh, she's doing something that she loves. She's not doing it because that girl did it.' I want people to just appreciate that and say, 'Oh, I can do that too!'
I feel like there [are] a lot of little girls that just need to realize that they don't need to worry about what others think. They just need to be their own person.
At the end of the day, if you don't believe in yourself, nobody's going to believe in you, so you have to step out there on faith and just do it.
Check out the video to Teenear's single "Need Your Love" below.