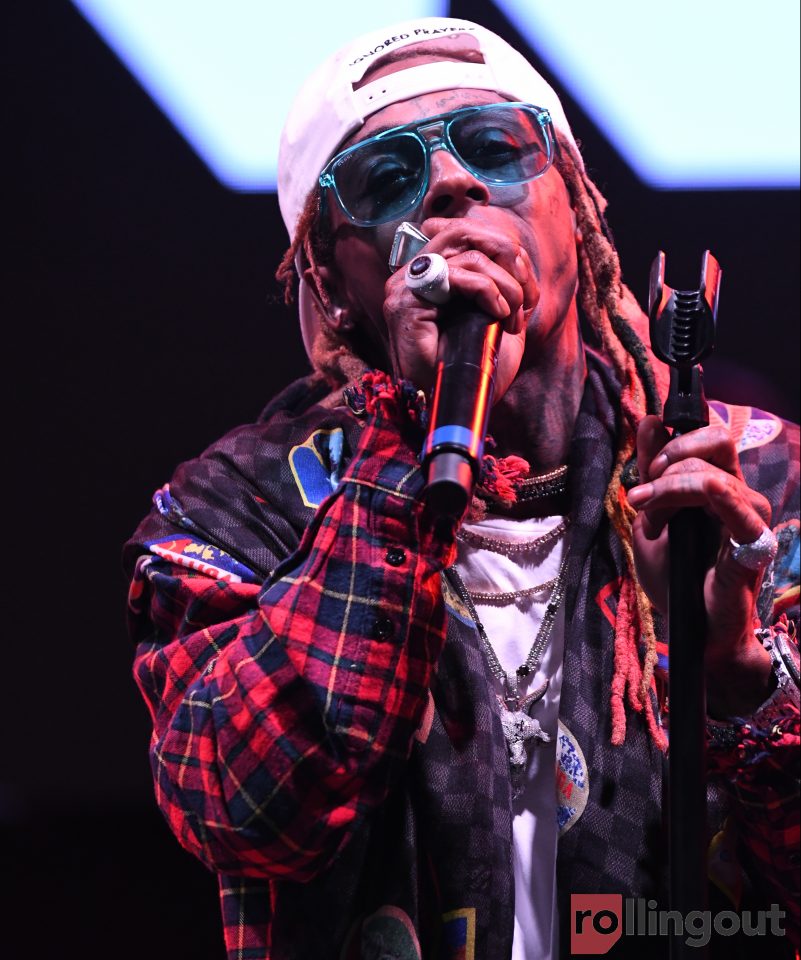 Lil Wayne performed for the first time since releasing his latest album, Tha Carter V, at the A3C Festival on Sunday, Oct. 7, in Atlanta. However, the most anticipated performance during the five-day festival ended 10 minutes after Lil Wayne hit the stage.
While performing the song "John," a small scuffle occurred inside of the VIP section at the festival, which was held at the Georgia Freight Depot downtown.
Police officers were able to break up the fight, but some people believed that they heard gunshots and began running. It's likely that some festivalgoers thought the striking sound of the snare drums used in the song "John" were gunshots.
Hundreds of attendees ran away from the stage after someone yelled that they heard gunshots. Lil Wayne was rushed off the stage by security and his band followed.
Some festivalgoers were trampled as others jumped over the gates that surrounded the festival. In an attempt to avoid being swept up in the stampede, some kneeled on the ground and attempted to crawl away from the crowd.
"People started running from the center, forcing those of us on the edges to the ground," Ben Poole of Atlanta said. "You could hear screaming and crying throughout the venue. There were several people crawling trying to get away. Guys were helping people hop the fence."
Hank Samuels of Atlanta also shared his experience. "Everyone was packed in really close, so it was hard to move [with] people pushing in all directions. I ended up in a clump of about 25 to 30 people, getting pushed back and forth until we were eventually pushed to the side and were able to start to disperse."
Norm Johnson, a photographer for Steed Media, shared his experience of being caught in the brawl while taking photos of Lil Wayne.
"It was 10 minutes of fear that all photographers try to prepare themselves for," Johnson said. "But as it was happening, all I was waiting for was that ringing sound of a gunshot and hoping that I didn't have to witness something horrific."
Lil Wayne responded by tweeting, "I hope everyone at A3C is safe!!!"
A3C Festival released the following statement: "We are still collecting information to determine exactly what happened…Please be assured that the law enforcement officers present have confirmed that there were no weapons involved."