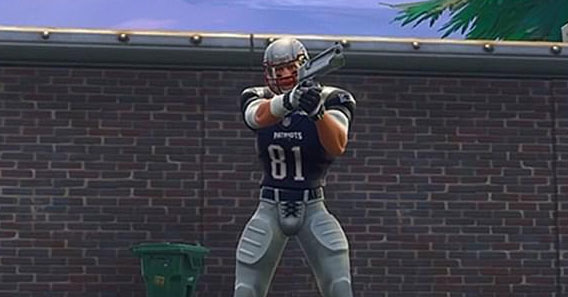 Once again, the alleged dangers of online gaming as it relates to children is causing a stir. The hit game Fortnite is being criticized for a new player skin mod that features NFL players. Some gamers have now taken it to the extreme and are using these mods to recreate a literal killer character that features these infamous athletes killing other player's characters.
Among the character "skins" being used are O.J. Simpson and Aaron Hernandez. In order to gain access to these new mods, characters must complete an in-game purchase that allows the NFL avatar feature. Once the purchase is made, a gamer can then create an avatar armed with an assortment of weapons to create mayhem.
According to Forbes.com, online purchases in Fortnite generate an estimated $1M a day in revenue for the company. This makes Fortnite one of the most popular and successful offerings in the genre of massively multiplayer online role-playing games (MMORPG) available today.
Fortnite is regarded as a shooter game, in which players from around the globe meet in a virtual world full of violence, vice and, in some cases, racism. There is no real online moderator to put such behavior in check, and some kids have found themselves on the receiving end of cyberbullying. Many parents do not realize that their kids are playing with adults, which means inappropriate humor and avatar actions are common.
One Fortnite player created an avatar of Tampa Bay Buccaneers defensive lineman Jason Pierre-Paul. The NFL player blew off his fingers in a fireworks-related accident, and one gamer created an avatar armed with a bag of fireworks on his back. In another instance, a gamer created an O.J. Simpson avatar to "kill so he could get away with it," according to a Twitter post.
Even a Colin Kaepernick avatar is available, who some gamers have "take a knee" before and after a violent action in the game.
Despite criticism among gamers who engage in provocative behavior while playing, Epic Games, which created Fortnite, has been reluctant or unable to stop this behavior.