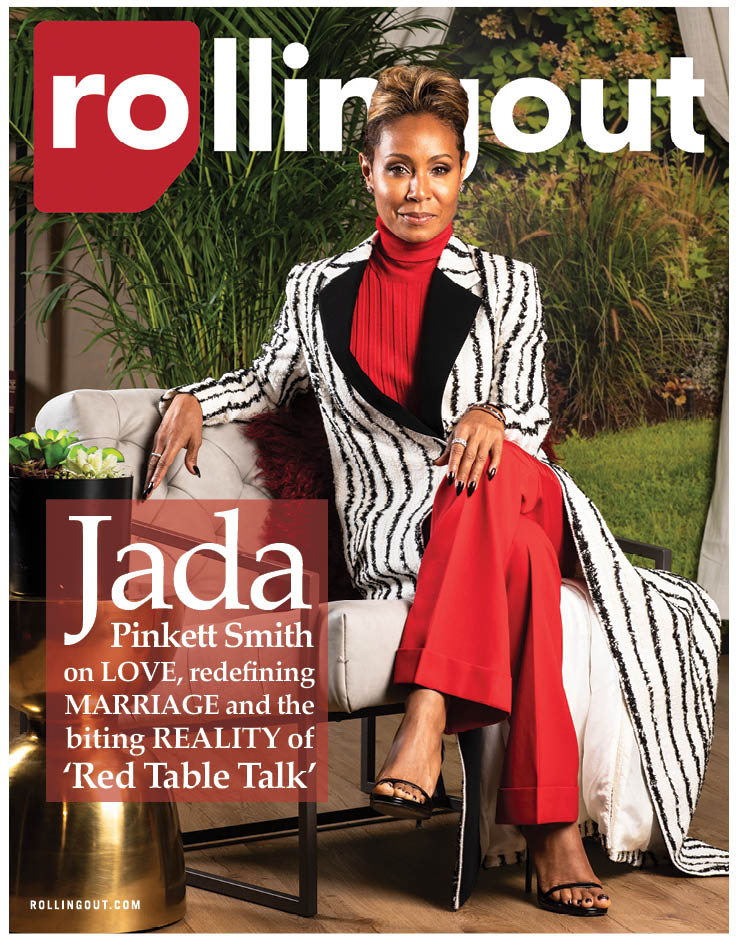 On a brisk fall afternoon in Atlanta, Jada Pinkett Smith and her mother, Adrienne Banfield-Norris, sat at a red table and shared their unfiltered thoughts on sex, love,
relationships
and
race
.
While they were 2,200 miles away from the actual red table that sits in the Malibu, California, home owned by Jada Pinkett Smith and her husband, the consummate Hollywood star Will Smith, Pinkett Smith and Banfield-Norris, also known as Gama, still provided a select group of Atlanta journalists with a glimpse of their reality and the inspiration behind the revealing stories featured on their Facebook TV show, "Red Table Talk."
After initially premiering on May 7, 2018, "Red Table Talk," which also features Pinkett Smith's daughter, Willow Smith, 18, proved to be tailor-made for the social media era as short, jaw-dropping clips on the Smiths' family secrets, sex lives and past drug use instantly went viral.
"I think for me, the seven years of transformation I've been going through, when you do a lot of healing and you get less fearful of sharing your story, you actually want to share it because you realize that part of going through things is sharing," Pinkett Smith said of the concept behind the show.
"Instead of keeping things close to the chest, I know for me, when I reached out to people who were encouraging me to give out the real … that changed my world. Three women specifically reached out to me when I was going through difficult times. It literally changed the trajectory of my life and kept me from making some big mistakes. And I was like Gama, 'We gotta do this more often … we gotta get to the red table.' Because she has come through so much, I've come through so much, and even Willow, at her young age, just because of the life that she's been given. The challenge for me was to be able to put myself out there like that and not be afraid of the judgment. That was challenging."
Indeed, in the first season of "Red Table Talk," they tackled issues such as Adrienne sharing her past drug addiction, Willow's depression and issues with cutting herself, and Jada speaking with Will's ex-wife, Sheree Zampino Fletcher.
The second season of "Red Table Talk" opened with an intimate conversation with Will as the special guest. The episode provided keen insight into the ups and downs of their 20-year marriage.
"I think that the idea that, because you love someone and someone loves you and that you actually fall in love, it doesn't mean that this person is now going to be perfect and this person now has to live only for you," Pinkett Smith shared about the complexities of marriage.
"For me, that never works," she added. "I just don't believe in that, which is one of the reasons why we've just dropped marriage altogether and say we have a life partnership. Because I just don't believe in some of the ideas that society has decided to put around [marriage] … Ruby Dee [the legendary actress who died in 2014] told me, 'I don't care what you're going through, laugh now.' When I went to see her, I had only been married to Will for 15 years. She was like, 'How long you been married to that man?' I said, '15 years.' She said, 'You don't even know him yet.' "
Jada and Will would learn to understand each other more by allowing each other to be individuals as they raised their kids — Willow, Jaden Smith, 20, and Trey Smith, 26 (from Will's previous marriage).
"People are struggling in their relationships, and Will and I both felt like we're in a place now that we can and we should share our story," Pinkett Smith said. "I know in my life the most powerful gifts I've been given are women's testimony specifically … I can never tell anybody what they should be doing in their life or what their relationship should look like. And that's one of the reasons why I wanted to redefine the line and call it a life partnership and not a marriage. Because Will and I really do honor the ideas of marriage, and I never want anybody to think that they need to be in something that doesn't look like they want it to look. So I was, like, we're going to call it something else."
Pinkett Smith began to look at her relationship differently after the death of her father, Robsol Pinkett Jr., who died in 2010. She never saw him as a man first, only viewing him as her concept of what a father should be.
"When my father died, I realized — and it was maybe a year and a half later of sitting and meditation and prayer — I couldn't believe that I had allowed my father to die without seeing him as a man. Meaning, I could only ever relate to him as my father," she shared. "And because he had failed as my father, he failed as a man. And he had so much to offer me outside of being my father if I had seen him as a human being. He wasn't a man that came to this planet to just be my dad, he was a man first. It was a revelation, and I felt like I was doing the same to Will as a husband. And he's not just a husband."
Banfield-Norris, 64, added her thoughts on couples, suggesting that they should find a common ground when it comes to building and maintaining a strong relationship.
"I have one piece of advice that I learned from Will and Jada when they shared their experience with me," she revealed. "And that is [to] just be courageous and brave enough to figure out what works for the two of you. We're so stuck in this box of what marriage means, of what expectations are, period. Expectations that you have as a mother, as a friend, as a sister. All these expectations that we put on people and roles.
"You have to put all of that aside because we all know that a lot of this marriage stuff and this relationship stuff is fantasy. It's foolishness. It's almost impossible to maintain, and you have to have the courage and the willingness to create what works for you and your partner and not worry about what everybody else is thinking about it. If it works for you and your family and your situation, then it's right for you because you two are the only ones that matter. It's hard to do, and it's hard to block the judgment in any situation. Judgment and fear will really control your decisions."
Words by A.R. Shaw
Photos by DeWayne Rogers