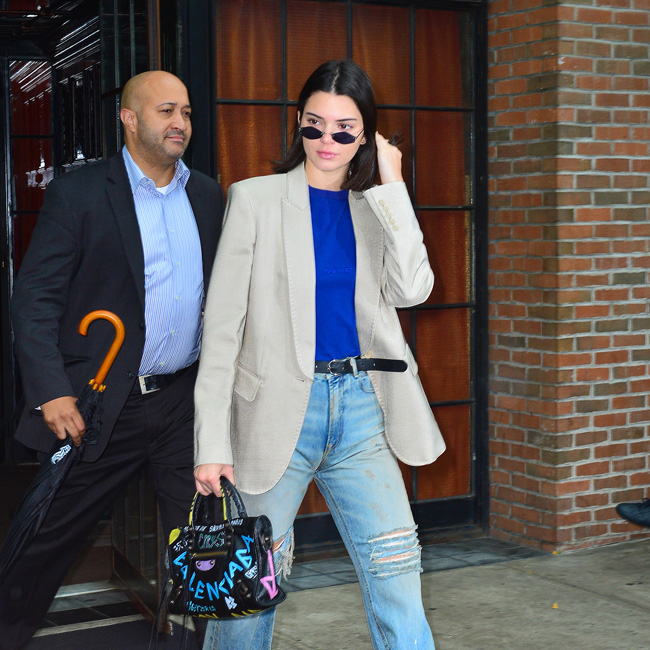 Kendall Jenner booed Tristan Thompson during a basketball game on Friday, Nov. 23, 2018.
The 23-year-old model was spotted jokingly jeering Thompson, 27 — who is the boyfriend of Khloé Kardashian and the father of her 7-month-old daughter True — during the Cleveland Cavaliers game against the Philadelphia 76ers.
Jenner sat court-side for the game and could be seen cupping her hands to boo Tristan as he was taking a free throw.
However, the high-profile duo also shared a warm embrace on the court, showing that there were no hard feelings.
During the game, Kendall was also seen cheering for Ben Simmons, the Australian star for the 76ers who she's been romantically linked to.
Meanwhile, Khloé, Kendall's half-sister, recently hit back at criticism from fans after she skipped Thanksgiving with her family.
The 34-year-old reality star spent the holiday in Cleveland, Ohio, with Tristan and their daughter True, while her family celebrated in Los Angeles, but Khloé has denied she's feuding with her loved ones.
She wrote on Twitter: "Y'all are reaching now. I've spent the past 3 years in Cleveland for Thanksgiving. Not sure why people are trying to create drama between my family and I. My sisters and I are perfectly fine thank you! All of their families were able to travel but TT being in season, he can not.
"The truth is never as fun as some story some of you like to create.
So here we goooooooooooo!! Happy Thanksgiving I guess lol (sic)."
There has been tension between Khloe's family and the NBA star ever since he was accused of being unfaithful just days before their daughter was born in April.