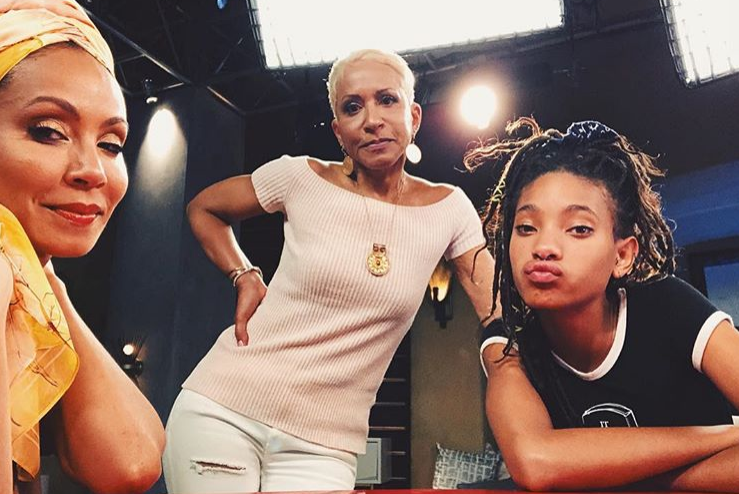 Jada Pinkett Smith's mother once questioned her marriage to Will Smith.
The 47-year-old actress has been married to the Suicide Squad actor for more than two decades but has now admitted her mother Adrienne Banfield-Norris wasn't always so supportive of their relationship.
Pinkett Smith spoke about her romance on her Facebook Watch series "Red Table Talk," where she previously opened up about the rocky patches she has endured with Will and mentioned that her mother had asked her why she doesn't just get divorced.
The Girls Trip star — who has 20-year-old son Jaden, and 18-year-old daughter Willow with Will — recalled: "She was like, 'Well, why don't you guys just divorce?' One of the ideas for me is that we've built such a beautiful community, we've built such a beautiful family … we do well together. Breaking that group and community up for me? It's just never an option."
Pinkett Smith, who is also stepmother to Will's son Trey, 26, says her marriage to Will, 50, hasn't been "easy," but the couple know how to "balance it" by understanding the differences between work and home.
She continued: "I won't say that it's easy, but one of the things that Will and I take a lot of pride in is being able to balance it by really understanding our family and one another as artists.
"So many of us are doing so many things. Willow's over here doing that. Trey, Jaden, Will [are off doing other things.] Sometimes we're in all different parts of the world. But we love doing what we love to do, and we flow so much light and power to one another to do it. That's the thing that keeps us connected."
And she insists that her marriage is a lot deeper than just "romance."
She said: "Partnering is a lot more than romance. It has a lot to do with survival, resources and just having somebody or somebodies by you that can help you figure it out."