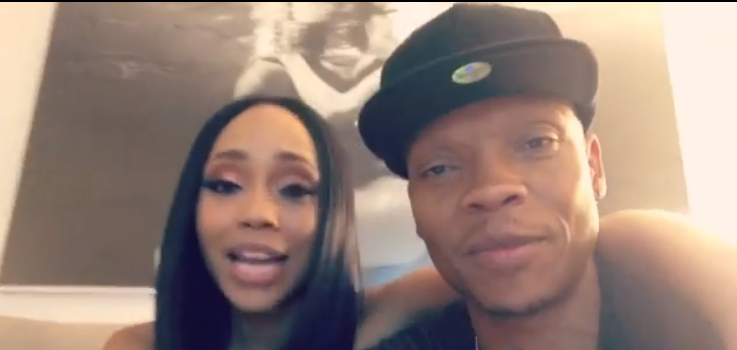 Ronnie DeVoe of New Edition and BBD fame helped blow his fans' wigs back, but this time it had nothing to do with the release of a hit song nor an acrobatic dance sequence.
During the latest episode of the "Real Housewives of Atlanta," the legendary singer's wife Shamari DeVoe admitted that she and husband Ronnie DeVoe, 51, had enjoyed an open relationship for a year and a half when they slept with multiple people.
Veteran RHOA star and former model Cynthia Bailey, 51, led the all-girl discussion at her home when she boldly asked all of the cast members if they had ever been in an open relationship.
Singer Shamari DeVoe, 38, shot straight up as if her seat was on fire and enthusiastically raised both of her hands to confirm her participation in an open relationship. Her eagerness to share her story initially stunned her co-stars.
Just prior to that dramatic scene, Shamari DeVoe had a similar conversation with Ronnie DeVoe's mother Flo, much to the elder woman's displeasure.
"Did you ever know that me and Ron had an open relationship?" she asked while the two were shopping for her sons' birthday cake together.
"There was a point where he can do his thing and I can do mine," she told Ronnie DeVoe's stunned mom.
She said, "The open relationship lasted for about a year and a half. I initiated the open marriage. We were going through some really bad times. It was a girl that I was interested [in] at the time. I wanted to do something different. I was bi-curious."
But she admitted that "it didn't work," and her mother-in-law was shocked. Shamari Moore said she began to like one of the women a little too much.
"When you open up the doors you let the devil in," Flo told her daughter-in-law.
Later in the episode, Bailey hosted the all-women's party where the cast mates got together for the first time. And this is where Shamari DeVoe revealed even more details of her open relationship to her new RHOA co-stars.
"You're f***ing other people," Shamari DeVoe told NeNe Leakes, who was fully supportive. "I like that," Leakes responded.
"Do you tell him 'I'm going to have sex tonight ?'" Leakes asked, and Shamari Devoe responded with "yes."
Sexually liberated Kandi Burruss, who admits she can be kinky and even has her own show featuring raunchy sex talk and toys on "Kandi Koated Knights," may have surprised fans when she said she was adamantly opposed to open marriages.
"I know everybody says because you've tried a threesome before you're so open minded. No. I'm not that open minded," Burruss admitted with her signature raised eyebrow and smirk.
Shamari DeVoe said their deal worked because she only wanted to be with women. "There was nothing off limits. We could do anything. It was awesome."
In all, Shamari DeVoe said she had sex with two other women while she said Ronnie DeVoe had sex with about 10.
"What if you want to get a man with a big chest and big d***, you can't get that?" Leakes boldly inquired of Shamari DeVoe.
"As long as I was able to go about in my bi-curious ways then I was cool with that," she responded. "I didn't want to be with another man because I had my husband. I slept with two women; he slept with about 10. I started the open relationship and I ended the open relationship. I realized the grass wasn't greener on the other side."
Check out a quick clip of this RHOA episode on YouTube by clicking here.