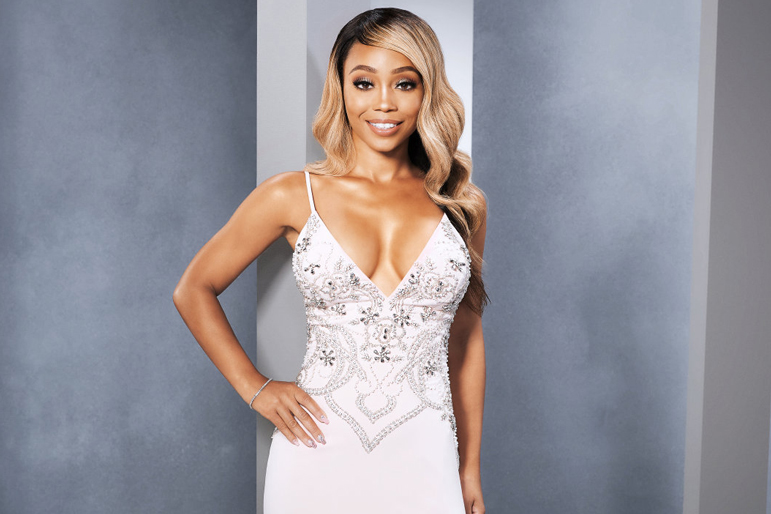 While Shamari DeVoe is a "new addition" to the "Real Housewives of Atlanta," she definitely is no stranger to the entertainment industry. A member of '90s R&B girl group Blaque, she practically grew up in the spotlight and that has only continued since the talented singer and actress married New Edition and Bell Biv DeVoe member Ronnie DeVoe.
The DeVoes are parents to twin sons and an admired Atlanta power couple who have built businesses, created music and helped other married couples — all things DeVoe hopes to share with the millions of viewers who tune in to "RHOA" each week.
Eager to showcase her life and reveal a side of her that people never see, DeVoe recently spoke with rolling out about the show, her music career and her family.
How did you come to join "The Real Housewives of Atlanta" cast?
I was approached by a producer, and I thought it was a good opportunity for the world to hear my story. A lot of people know me as a member of the multiplatinum group Blaque and the actress from Bring It On, but I really wanted people to know me as Shamari DeVoe.
What was it like filming a reality show?
The experience is totally different from being in the music industry. It has been great so far, and I absolutely love it, but [it's] totally different than what I'm used to.
I just wanted to make sure that it truly represented my family and who I am as a mom and a wife. My husband and I are marriage ambassadors, and I wanted that to be portrayed as my truth.
You mentioned that you and your husband are marriage ambassadors. What is that, and how does it work?
My husband and I have been together for 17 years, married for 12. We've gone through challenges, and we've overcome those challenges. We feel like it's our duty to help other couples work through their challenges in order to have long-lasting, healthy relationships.
We do different events in Atlanta. We have one event called the "Married 4 Life Walk" where we bring a lot of like-minded [couples] together. We encourage and inspire them with a two-mile walk.
We also do a "Couples, Cocktails and Conversations" event where couples come and talk about all their challenges. It's like an open table, and we have our marriage counselors come out and help you get through those challenges.
So far, what have been some of the highlights of being on RHOA?
Being around Kandi [Burrus] We both came from girl groups from the '90s, and we relate with each other. We connect. She actually wrote the "808 Remix." "808" was Blaque's first single, so I've known her for a long time.
Describe how you got started in entertainment?
I was 17 years old when I got my first record deal. Tommy Mottola signed my group Blaque. Lisa Lopes ["Left Eye" of TLC] had creative control over the group, so I had the best mentor ever walking with me every step of the way.
She helped us pick songs, videos and clothes. It was a lot of fun. The music industry was totally different back in the '90s. I was able to travel the world and live out my dream.
I think that nowadays social media and being able to put your music out there has definitely changed the game. People are able to download songs and not really put too much into music videos. Back then we would spend a million [dolllars] on a music video. Nowadays, you can shoot a video with your iPhone.
What's the status of Blaque today? 
It has been really good. Natina [Reed] is not here anymore, so Brandy and I are doing what we have to do to keep her legacy alive. We've gone through times where we've disagreed. That happens with girl groups. But we have a sisterhood, and we have love and respect for one another. We just want to continue to make good music.
What music-related projects are you working on right now?
Blaque has been working, and we have a surprise coming soon. My husband and I have a group with a single coming out called "Love Comes Through."
What else you do outside of entertainment?
I have a clothing line with my twin sons called Ronald and Roman. I am also a part of my husband's real estate company, DeVoe Real Estate, as a real estate agent. Our company has about 15 agents.