NFL player proposes to White woman on field, then her racist tweets revealed
Many people are wondering what NFL star Charles Leno Jr. is thinking today. The Chicago Bears' offensive tackle proposed to his girlfriend live on national television this past Sunday, and just days later the woman's old racist social media posts went viral on social media.
Charles Leno, a 27-year-old Oakland, California, native, got engaged to his girlfriend of five years, Jennifer Roth, in the grandest of ways. As seen via his Twitter post, Leno got down on one knee in the middle of Soldier's Field and proposed before the world.
As you might have expected, Roth said "yes."
Him : Will you marry me?
Her : Only if you , Beat the Pack & Win the North
Him : Done ✅ pic.twitter.com/hDW2LtYiSt

— Charles Leno Jr (@charleslenojr72) December 17, 2018
Check out the actual proposal as it was recorded and posted by his Chicago Bears squad:
SHE SAID YES!

Congrats to @charleslenojr72 & @jennifermroth_! pic.twitter.com/muMxduITIW

— Chicago Bears (@ChicagoBears) December 16, 2018
The public proposal comes on the heels of Leno signing a $38 million extension deal for the team he has played for since 2014 after being drafted in the seventh round out of Boise State.
Twenty-four hours after an emotional high from the proposal, several tweets surfaced of the girlfriend Roth liberally throwing around the N-word and calling Black people ghetto, according to screenshots captured by Perezhilton.com and theybf.com
In one post, Roth commented on NBA player Jimmy Butler getting a victory. She said, "Jimmy Butler got a win:) Loss for Nash, Melo and Griffin. Damn, all my n—–s took a loss in the NBA tonight." In another post, she said "b—-es think they slick but they be acting like n—–s."
Leno was already being buried with hate by White supremacists and Black women alike for propose to a White woman publicly. And now Leno has been ambushed by this latest news of his fiancée's old messages.
Here is a sampling of Roth's postings below: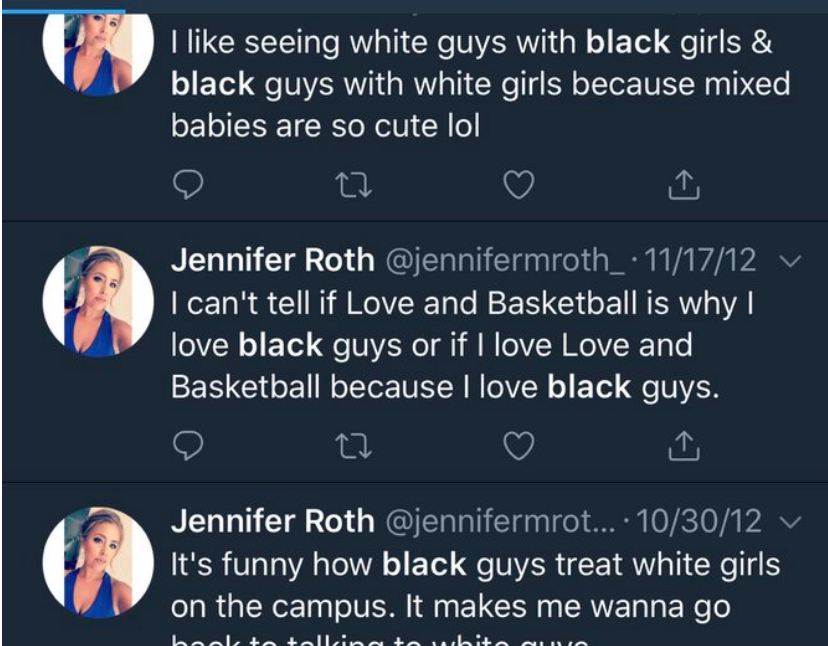 After Roth's private thoughts became public, social media pounced on her with fervor. One person came at Leno hard on Twitter, pointing out what Leno will and will not take a knee for:
Charles Leno @charleslenojr72 won't #TakeAKnee on the field to protest brutality against blacks BUT will to propose to a white woman. Truly sad mentality & optics #ImWithKap @ChicagoBears

— Sidalee (@Sidalee4) December 18, 2018
Charles Leno's fiance looked like she calls him that, too

— Scott Free featuring Shaka Zulu Chocolate Shake (@Black_Ted_Mosby) December 18, 2018
#JenniferRoth will secure the bag $$$. Have his kid & divorce him. Rinse & repeat. These black athletes never learn. #CharlesLenoJr will learn the hard & expensive way.

— Onyx Paradigm⚡️👊🏿💪🏿⚡️ (@C_Rich75) December 18, 2018
Leno, of course, had some backers to offset the detractors, but not many.
Wait y'all now care about Charles Leno Jr. Fiancee tweets because 1) he proposed nationally & 2) she's white. Again I don't care WHO you are if you go back digging for OLD TWEETS you are lame as HELL.

— Jay Washington (@MrJayWashington) December 18, 2018
Just saw those old tweets from Charles Leno Jr's fiancée, I feel like he already knows this about her and doesn't care. There are some black guys out here who truly feel this way, if they're happy with it then it's none of my damn business cause it's his life to live🤷🏾‍♀️

— ✨I'm Better Than The Hype, I Give You Life✨ (@sportsandboobs) December 17, 2018
The Charles Leno household right now. pic.twitter.com/yfe0DJ2U9Y

— Evan F Moore (@evanFmoore) December 17, 2018
Not real sure why anyone pulled up Charles Leno fiancés old tweets. Like what is that going to do?

If he likes I love it. That what he likes 🤷🏽‍♀️

— flewed out (@asha7777) December 18, 2018
What do you make of Leno's predicament now that Roth's messages have gone viral?