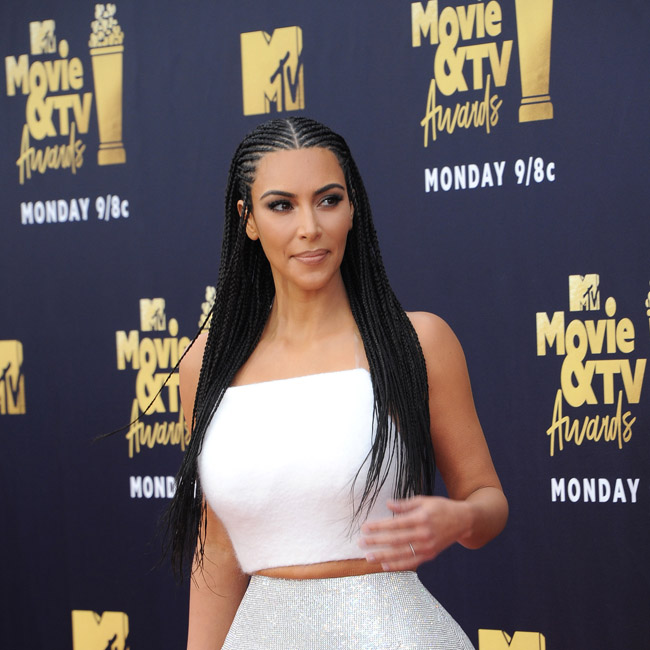 Kim Kardashian West is always careful about how much she posts about her children on social media.
The 38-year-old reality star — who has North, 5, Saint, 3, and Chicago, 11 months, with her husband Kanye West — has said that while she does feel "comfortable" posting pictures and videos of her brood online, she does feel the need to "pull back a little bit" sometimes.
Asked if she's ever worried about her children being on social media, Kim said: "Yeah, absolutely. There's times where I'm comfortable to post, and then times when I pull back a little bit. There's certain things that I … even when North was doing my makeup and she was having the tantrum, I'm like 'Do I wanna post that?' And then I was like, 'Oh, it's too funny, I have to.' But there are some things when I'm, like, you know what? Let's not post that."
But the "Keeping Up with the Kardashians" star thinks that it helps that her children have so many cousins — including Kourtney Kardashian's three children Mason, 8, Penelope, 6, and Reign, 3, as well as Khloe Kardashian's daughter True, 8 months, and Kylie Jenner's daughter Stormi, 10 months — who are all in the same boat when it comes to being in the public eye, so they still "grow up so normally" together.
Kim added: "Because there's so many cousins, I do feel like they have this sense of … you know, they grow up so normally and have so much fun, and I never want them to feel like things are for social media or anything like that. We definitely have the conversation about it."
However, the eldest Kardashian child, 8-year-old Mason, whom Kourtney Kardashian has with her ex-partner Scott Disick, is starting to learn about the world of social media as his friends at school all have Instagram accounts.
Speaking to Busy Philipps on her "Busy Tonight" show, Kim said: "He's 8, but his friends at school will come and tell him everything. Because he doesn't have a phone or an Instagram or anything like that, but his friends at school will and they'll say something like 'Oh, did you see this?' or 'Did you see that?' And we've had to have talks like 'You know he actually doesn't know that kind of stuff that's in the media'. So he is at the age where he's gonna start knowing things."