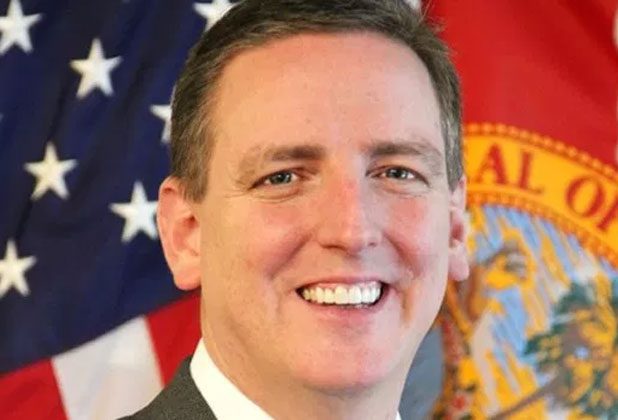 The racist views of his past have caught up with now-former Secretary of State Michael Ertel. Ertel resigned from office suddenly after a photo surfaced of him at a Halloween party wearing blackface and dressed like a woman.
The picture was taken in 2005, according to the Tallahassee Democrat, which broke the story. At that time, victims of Hurricane Katrina were flooding surrounding states as vast swathes of Louisiana were devastated by the effects of the storm in August 2005.
Ertel decided that two months after the devastation it would be funny blacken his face and don fake breasts, red lipstick, a New Orleans Saints bandanna, and a T-shirt with the words "Katrina Victim" on it. It was a shock for many who felt that Ertel was a friend to Blacks and supporter of Black causes.
In 2012, Ertel, in his former role as Seminole County supervisor of elections, was responsible for implementing Amendment 4, which restored voting rights to 1.4 million Floridians who had a felony record. As a result, he was honored by the city of Longwood, Florida, with an award named for civil rights legend Dr. Martin Luther King Jr.
Ertel's climb to the path of political power in Florida has now been cut off after only a few weeks in office as secretary of state. He was appointed to fill the position by Florida Gov. Ron DeSantis on Dec. 28, 2018.
DeSantis accepted Ertel's resignation on Thursday, Jan. 25, 2019. When asked for a comment about his resignation, Ertel stated to the Tallahassee Democrat, "There's nothing I can say."