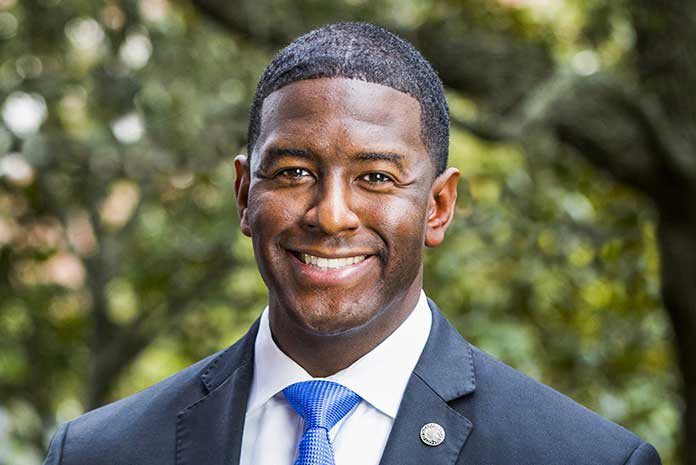 As the campaign of Andrew Gillum, the Tallahassee mayor and Democratic candidate for Florida governor, is gaining steam, a shocking revelation has come to light. It turns out that an undercover FBI agent surreptitiously gave Gillum tickets to the hit Broadway musical "Hamilton."
The New York Post is reporting that the FBI agent, using the name Mike Miller, gave the tickets, valued at several hundred dollars, to Gillum. Because Gillum did not report the gift, he may be in violation of Florida's ethics laws, which requires such gifts to be declared.
The incident occurred in August 2016 and is just coming to light just two weeks from the hotly contested Florida governor's race, in which Gillum is leading his Republican rival, Ron DeSantis.
Gillum maintains that he received the tickets as a gift from his brother and as such it did not need to be reported. However, according to the Tampa Bay Times, text messages received by Gillum contradict his statement.
At issue is a text message from a man identified as former lobbyist Adam Corey. The message read, "Mike Miller and the crew have tickets for us for 'Hamilton' tonight at 8 p.m.," and Gillum responded, "Awesome news about 'Hamilton.'"
The undercover operation was part of an investigation into corruption among Florida officials. But Gillum, who maintains his innocence, recently posted to Facebook: "These messages only confirm what we have said all along. We did go to see 'Hamilton.' I did get my ticket to 'Hamilton' from my brother. At the time, we believed that they were reserved by friends of Adam's, Mike Miller. And when I got there after work, got my ticket, we went in there and saw it, assumed my brother paid for it, and so far as I know, that was the deal."
But DeSantis is using the incident as a weapon in the campaign and is quoted as saying, "It's now abundantly clear that Andrew Gillum has repeatedly lied about taking free gifts and trips from lobbyists. If he'll lie about these gifts and trips from lobbyists on national television, what else is he lying about?"
The timing of the release of the documents has raised concern with the election being so close. The ethics complaint was filed against Gillum in June this year, and Gillum met with investigators in early September.
So far, Gillum maintains he has done nothing unethical.