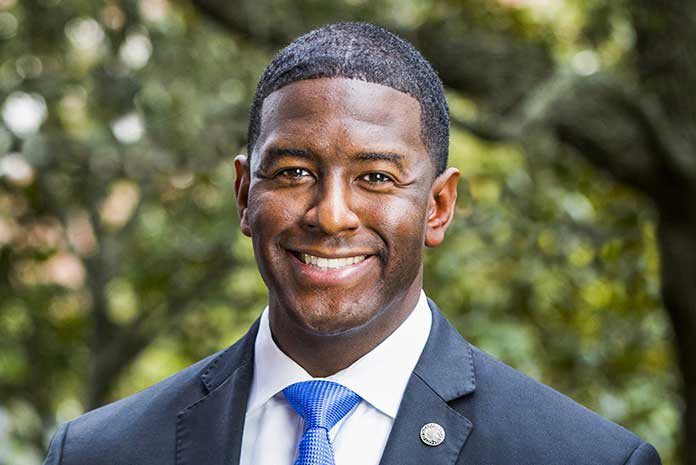 The ugliness that Donald Trump has discharged into the world continues to manifest itself in grotesque forms, as evidenced by the latest race-based episode in Florida.
A Trump-backed Republican candidate for governor of Florida, Ron DeSantis, created controversy when he told voters not to "monkey this up" by voting for Tallahassee Mayor Andrew Gillum — the first Black candidate for governor in the history of the state.
"Let's build off the success we've had on Gov. Scott," DeSantis said after he won the Republican nomination on Tuesday. "The last thing we need to do is to monkey this up by trying to embrace a socialist agenda with huge tax increases and bankrupting the state," he added.
Gillum responded by saying that it was "clear" his GOP rival "is going to join Donald Trump in the swamp" after Ron DeSantis chose to use those words in his victory speech.
"We're going to leave them there, and we continue to press toward a higher mark," Gillum said on "Meet The Press Daily."
DeSantis fired off several defensive rounds at the mainstream media, accusing the "left-wing" press of making him out to be a racist when he is not.
The Republican candidate's camp also pointed out numerous politicians — including former President Barack Obama — who have uttered the word monkey and were not accused of racism.
"Ron DeSantis was obviously talking about Florida not making the wrong decision to embrace the socialist policies that Andrew Gillum espouses," Stephen Lawson, DeSantis' communications director, told CBS News. "To characterize it as anything else is absurd."
DeSantis' supporters also illuminated the fact that the Washington Post has a section called "Monkey Cage."
Gillum said he is not going to allow divisive politics and demagoguery to divide the Florida electorate.
"We're better than this in Florida. I believe the congressman can be better than this. I regret that his mentor in politics is Donald Trump, but I do believe that voters of the state of Florida are going to reject the politics of division," Gillum said.
What do you make of DeSantis' victory speech that included the words monkey this up?