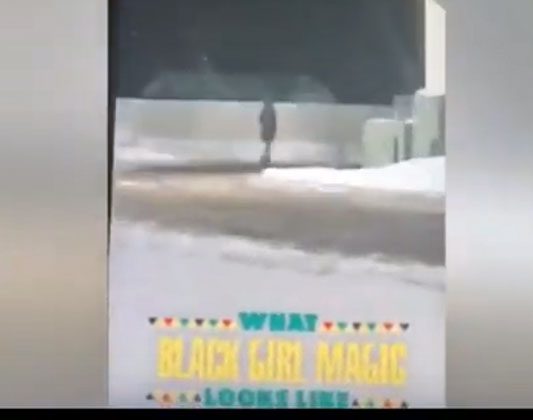 There are mean people in this world, and they will take the time to torment a person out of a demented sense of power. When these mean people carry a badge and a gun, the torment that is inflicted can be especially cruel.
Such is the case with Detroit police officer Gary Steele, who is now under fire for impounding a woman's car in the dead of night and later posting a racist video where he can be heard laughing at her misfortune.
As a large portion of the country has been affected by a polar vortex with bone-numbing cold, a Detroit woman found herself walking in the dead of night because of a traffic stop.
Officer Steele stopped Ariel Moore, 23, because her tag was expired, a perfectly justifiable reason. According to WXYZ News in Detroit, he even offered Moore a ride back to her home, which she refused.
The issue with Steele was revealed when he decided to record a Snapchat video of Moore walking in below-freezing temperatures with captions that read, "What black girl magic looks like" and "celebrating Black History Month," while another officer laughs. Adding to his insensitive and racist video, as a freezing Moore leaves sight of the video camera, Steele is heard to say, "Bye Felecia."
When Detroit Police Chief James Craig saw the video and the public indignation over the officer's racist actions, he was incensed.
"I am angry " Craig stated to media. "I'm angry because this was a racially insensitive post. On top of that, she's walking on a very cold night. It's dark and, in my view, she's in harm's way. It could've been my daughter, my sister. It doesn't matter. It could have been anyone."
Because of his actions that night, Steele has been reassigned to restrictive duty and an internal affairs investigation has been started.
The video if the incident can be seen below.
https://www.youtube.com/watch?v=Q6y0UlWRCwg