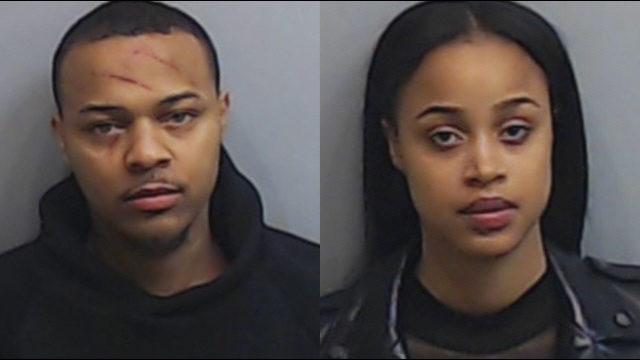 Retired rapper Bow Wow was attempting to use use the mug shot featuring his scratched-up face to construct the narrative that he was the victim of violence and was trying to ward off an aggressive girlfriend, Kiyomi Leslie (real name Leslie Holden) after a Super Bowl party last week.
He will now have to come up with plan B. That's because Bow Wow, who was born Shad Moss, 31, did not count on footage from the elevator to his Midtown Atlanta apartment to get leaked to the media. According to the surveillance video obtained by TMZ, Bow Wow is clearly the aggressor and is the one who seems on the verge of violence.
In the video, the rapper and Leslie are on the elevator with another man, who appears to be his bodyguard and peacemaker. The "Growing Up Hip Hop" producer yells at Leslie before snatching what appears to be the elevator key out of her hand.
At that point, Leslie quietly retreats to the corner of the elevator. But Bow Wow, in full rage mode, is not finished as he steps up to her until their faces are inches apart and barks at her very aggressively. The three then get off the elevator.
Check out the video on YouTube below:
As rolling out previously reported, Bow Wow and Leslie were charged with simple misdemeanor battery. Bow Wow's team has since released the following statement about his arrest:
"Shad Bow Wow Moss was wrongfully arrested earlier this morning for the first time after being beaten by an out-of-control intoxicated female, Ms. Leslie Holden, in an Atlanta condominium. The only two independent witnesses both corroborated his version of events indicating that Ms. Holden was simply out of control and was without a doubt the primary aggressor. For no logical reason, officers arrested both parties despite having clear-cut evidence that Bow Wow was the victim in the case. Ms. Holden beat him with a lamp, bit him on his side, and spit on him while Bow Wow continually made efforts to avoid her. Bow Wow suffered multiple injuries, some of which are visible in his mugshot. Ms. Holden's mugshot, on the other hand, speaks for itself, despite her allegation to police that she broke a fingernail."