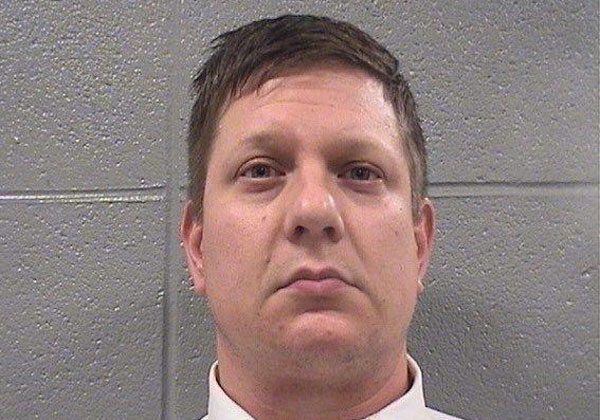 Former Chicago police officer Jason Van Dyke, is back in the news during Black History Month. Van Dyke is almost five months into his seven-year sentence for the 2014 murder of Laquan McDonald, 17.
In October 2018, he was convicted of second-degree murder and 16 counts of aggravated battery with a firearm in McDonald's death. Now his lawyer, Jennifer Blagg, has revealed that at the start of Black History Month, Van Dyke got a special lesson in what is known in the Black community as, the ceremonial laying of "These Hands," by fellow inmates.
According to Blagg, Van Dyke was transferred from a prison in Illinois to the Federal Correctional Institution, Danbury (SCI Danbury). The transfer was made because authorities at the Cook County Jail could not guarantee his safety, according to USA Today. On or about February 5, 2019, Van Dyke was attacked and beaten by a group of inmates and suffered multiple facial injuries, according to his lawyer.
His wife, Tiffany Van Dyke, was outraged at the beating of her husband. She stated to Chicago Sun-Times, "We are all petrified and in fear for Jason's life. It is the prison's job to keep him safe, and they're not doing their job. I want this rectified immediately. He was never supposed to be in the general population."
Tiffany Van Dyke's statement about the responsibility of authorities to "keep him safe" and demands for action, are strangely reminiscent of activists who demanded the same thing from law enforcement in the death of McDonald.
It was Oct. 20, 2014, when Van Dyke responded to a call of a person breaking into vehicles. A police dashcam video shows Van Dyke arriving at the scene and within seconds shooting the teen 16 times. McDonald's murder sparked widespread protests and was part of a disturbing and continuing trend of unwarranted police killings of Black men, not only in Chicago, but across the nation.
At this time there has been no comment from the Illinois Department of Corrections, the attack on Van Dyke incident, or why he was placed in federal custody.