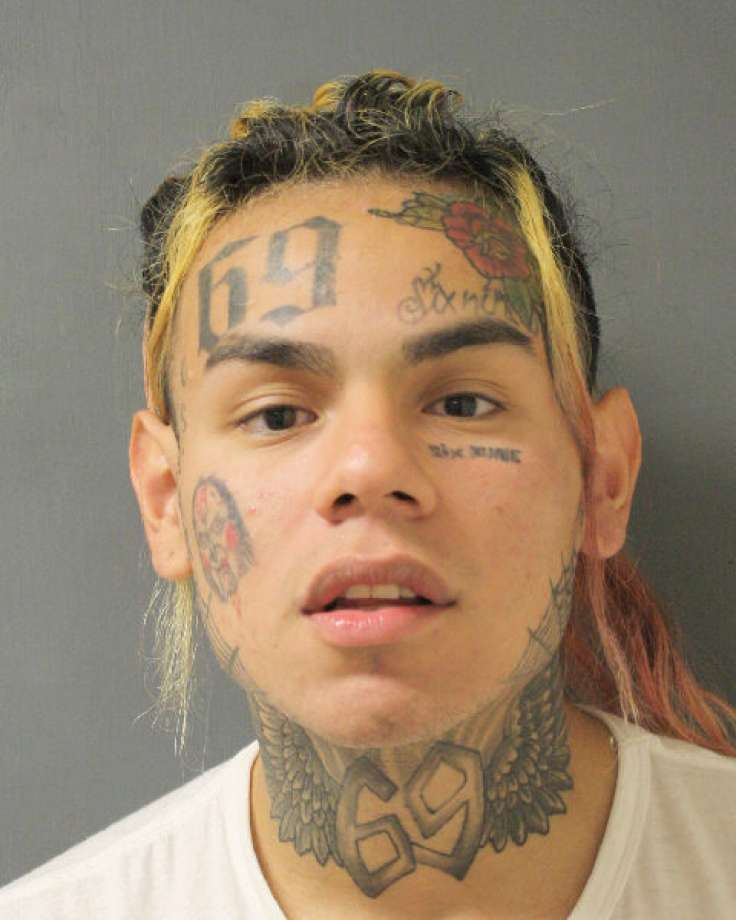 Tekashi69 may not have to spend one day in prison after he allegedly agreed to testify against his former gang members. According to a recently released court transcript, federal prosecutors will ask that the rapper's sentence be suspended in exchange for his testimony.
If he's released in January 2020, Tekashi69, whose real name is Daniel Hernandez, will enter the witness protection program.
Tekashi69 was initially facing 47 years in prison after being indicted in November 2018. The rapper was connected to the Nine Trey gang, which is a "violent" sect of the Bloods. Tekashi's ex-manager Kifano Jordan, aka Shotti, was also indicted along with Faheem Walter, aka Crippy, Jamel Jones, aka Mel Murda, Jensel Butler, aka Ish, and Fuguan Lovick, aka Fu Banga.
Tekashi told the FBI that he paid an associate to shoot Chicago-based rapper Chief Keef, after footage emerged of him ordering a hit on Chief Keef's cousin.
In his plea, Tekashi said, "I apologize to the Court, to anyone who was hurt, to my family, friends and fans for what I have done and who I have let down."
During his rise in hip-hop over the past year, Tekashi was known for starting conflict with multiple artists. He used his social media platforms to threaten and troll individuals in the music industry, such as rapper YG and music executive Jas Prince. He often posted photos of himself holding guns and reportedly also had enemies who were not in the music industry.
In turn, Tekashi would have to travel with up to 10 bodyguards at a time. His latest video shoot was canceled in early November after gunshots were fired at a mansion in Beverly Hills where the taping was to take place. The gunshots occurred before a scheduled appearance by Nicki Minaj. Kanye West and Tekashi were reportedly inside the mansion at the time of the shooting.
He became a target by his former gang members who believed that he was working with the FBI.
Treway gang member Mel Murder, real name Jamel Jones, was recorded having a conversation with Tekashi's ex-manager, Shotti, real name Kifano Jordan.
Jones reportedly told Jordan, "[Tekashi] is trying to dry snitch at the same time, homie. But he keep saying, f— Treway, f— that n—, Treyway. Ain't no n—, Treway. F– Treway." Jordan responded by saying, "Imma feed him though." Authorities believe that "feed him" is slang  for "feed him bullets."
In another conversation recorded by FBI, Jones made a similar threat to another unidentified gang member.
While discussing Tekashi's attempt to distance himself from the gang, the unidentified gang member told Jones, "That's cool. Now he gotta get violated."
Jones responded by saying, "Yeah, super violated. Super duper. Ain't no much he could really do unless he run around with 100 armed securities all day."
Tekashi could possibly testify against his former gang members in January 2020.