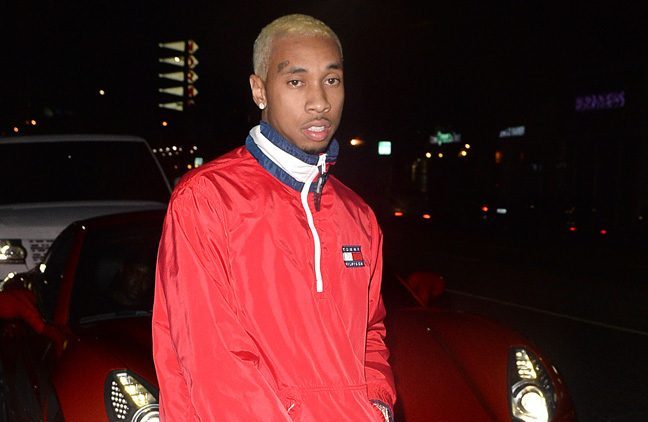 Khloe Kardashian's ex-boyfriend Tristan Thompson did not want his baby mama, Jordan Craig, anymore. He dumped her for Kardashian. But Thompson does not want anyone else famous to get with Craig, either.
As been pointed out by The Blast and HollywoodLife, rapper Tyga inserted himself back into the convoluted Kardashian family web by liking one of Craig's provocative photos. Thompson is the father of Khloe Kardashian's toddler, while Tyga used to romance Kylie Jenner just before Travis Scott came into the picture.
When Thompson learned that Tyga liked his ex-girlfriend's photo, he was not too happy about it, according to the report.
"Tristan is furious after he was told by a friend that Tyga was creeping on Jordan's social media," a source close to the Cleveland Cavaliers star told HollywoodLife. "Tristan considers Jordan to be family, and he doesn't want Tyga to date her, slide into her DMs, use her, or break her heart."
Interesting using the word "family," when Thompson left skid marks leaving Jordyn Craig while she was very pregnant with their now two-year-old son and falling into the arms of Khloe Kardashian.
We repeat Jordan Craig's first name because, later on, Thompson repeatedly cheated on Kardashian with a number of women, and even tried to have sexual relations with Kardashian's friend by the name of Jordyn Woods (You can't make this stuff up).
In terms of Tyga's liking of Craig's Instagram photo, Thompson reportedly believes that Tyga has broken the man code.
"Tristan is protective of Jordan, just like he is with Khloe, even though he knows he has made big mistakes with both of exes," the source added. "He knows enough about Tyga to feel like [he] needs to back off."
Thompson doesn't look good in this situation. But what makes Thompson look worse is the fact that he doesn't seem to spend time with either of his children, including True. Even Thompson's mother, Andrea, is admonishing her son to man up and spend time with his children.
"His mom sat him down and really let him know just how much his children need their daddy," a source divulged to HollywoodLife. "His family, Khloe, and his ex Jordan have all urged him to also be present in his children's lives. It seems like he is listening, which they all appreciate."