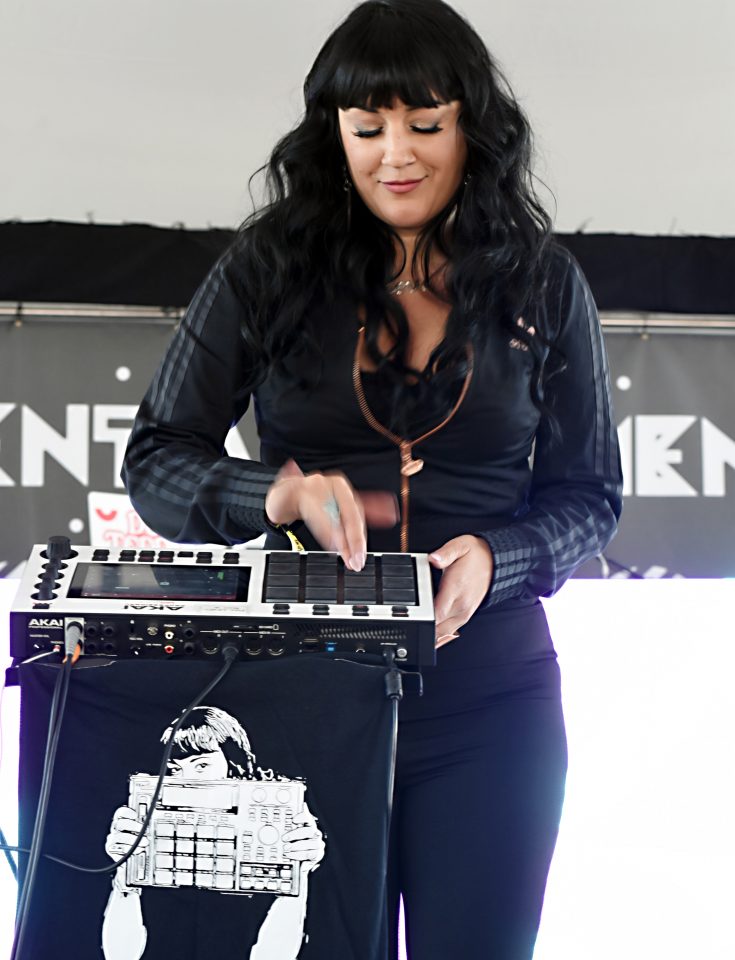 Real Name: Lisa Vazquez
Instagram: @lisavazquezmusic
Twitter: @_lisavazquez
Facebook: Lisa Vazquez
City/State: Portland, Oregon
Lisa Vazquez is a rapper, producer and deejay who made heads turn and people walking by stop and listen to her at Soundset Music Festival. She gave the crowd an up-close-and-personal look at what it is like to create a beat from scratch delivered with a crazy flow.
Rolling out sat down with Lisa Vazquez to discuss how she got started in deejaying and what is next for her.
How did you get involved in rapping and deejaying?
Lisa Vazquez: I played in bands for a very long time. So, I used to do backup vocals and percussion in hip-hop groups. Then I went to school for production when I wanted to learn how to do solo stuff. I started off doing more live looping, so I had a drum sampler and I looped drums [and] just looped my vocals. I did it with effects. Then I found an MPC and I fell in love. I do the live looping and I want my audience to enjoy a live experience and watch me create something in front of them.
Where are you from?
I am originally from Portland, Oregon. I plan on moving to California really soon. I think there are more opportunities for me there.
Who inspired you to deejay?
Lauryn Hill and Erykah Badu, who still have a powerful presence in the industry. To me, no one has really topped where Lauryn Hill has been and her talent. Exile, J Dilla and Madlib are doing a similar style to what I am doing. Snoh Aalegra, I love her and she has a beautiful voice. A local artist who inspires me is my friend Kelley Mack, she is really dope.
Name three artists that you would want to work with?
Sa Roc, Slug and Snoh Aalegra.
What advice would you give young girls who want to get into deejaying?
It's going to be hard and you are going to doubt yourself constantly. When people come up to me and say "you're so amazing," that means so much to me. It takes a lot of work and dedication. Don't get discouraged by the fact that you're not where you want to be because you don't ever really get there in a sense.
Do you have a new project that's out right now?
I am working on an album that will be released in September and I am also going on a two-month long national tour, on the East Coast in August and the West Coast in September.